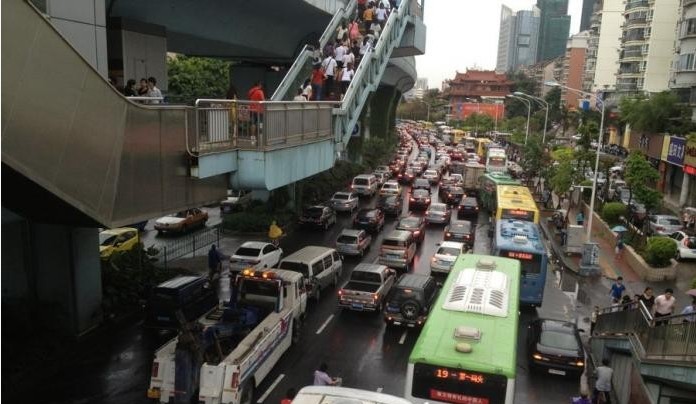 China is home to more than 20 of the most congested cities for traffic in the world, and five are ranked among the world's top 20, according to a report by TomTom, a dutch company specialising in car navigation services.
China's most congested cities are its first-tier ones, with Chongqing taking top spot in China and 12th internationally, followed by Tianjin, Beijing and Guangzhou. Chengdu rounded out the top five Chinese cities, coming ahead of Shanghai as well as making it one of the top 20 most congested cities in the world at no. 19.
A number of cities in the Pearl River Delta made it onto the list. In addition to Guangzhou are Shenzhen as China's 11th most congested city, Zhuhai in 12th place and Dongguan at 21. Another group to note are the Chinese cities that will make up the future Beijing supercity of Tianjin, Beijing and Shijiazhuang, Hebei at the number seven spot.
Taipei also made it onto the list as the 11th most traffic congested city in the world.
TomTom compiled the data by comparing travel times during peak periods against non-congested travel times, and expressing the result as a percentage. Chongqing has a congestion level of 38 percent in which an ordinary commute that takes 30 minutes in unobstructed traffic is delayed by 27 minutes during rush hour.
As bad as traffic conditions appear in Chongqing, car travel in Beijing may actually be worse. While Beijing has a 37 percent congestion level with a delay of 24 minutes for every 30 minute commute, it has more roads than Chongqing that still get clogged up. Though they are both large first-tier cities, Chongqing's road network is only 5,575 kilometers long, of which 196 kilometers are highways. By comparison, Beijing has a road network of 20,834 kilometers in which 1,177 kilometers are highways.
Here is the list of China's most congested cities for traffic, followed by their international ranking:
Chongqing; 12th
Tianjin; 14th
Beijing; 15th
Guangzhou, Guangdong; 17th
Chengdu, Sichuan; 19th
Shanghai; 24
Shijiazhuang, Hebei; 25th
Fuzhou, Fujian; 28th
Shenyang, Liaoning; 29th
Hangzhou, Zhejiang; 30th
Shenzhen, Guangdong; 31st
Zhuhai, Guangdong; 33rd
Changchun, Jilin; 35th
Changsha, Hunan 39th
Nanjing, Jiangsu; 42nd
Quanzhou, Fujian; 49th
Ningbo, Zhejiang; 52nd
Wuhan, Hubei; 54th
Xiamen, Fujian; 80th
Suzhou, Jiangsu; 82nd
Dongguan, Guangdong; 83rd
Wuxi, Jiangsu; 105th
Istanbul, Mexico City, and and Rio de Janeiro are the three most congested cities in the world.