Are there simply not enough dope beats for you when it comes to staid, government policies? In that case, you may find a convincing argument from an animated video about the "Four Comprehensives" policy by the Chinese Communist Party.
Produced by Xinhua, the official state news media of China, the video features exaggerated visuals like a flying saucer and a silver Rubik's cube in front of an undulating bullseye.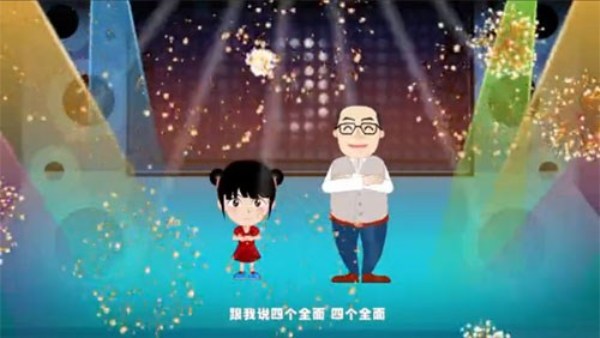 The music is set to a hip-hop beat as a rapper explains the "Four Comprehensives": to comprehensively develop a "moderately prosperous society", to comprehensively reform the country, to comprehensively enact a "rule of law", and to comprehensively root out Party corruption.
"Prosperity is the goal, reform is the drive, rule of law is the guarantee, Party building is the key!" shouts the chorus of the song, which is sung in tune to Beethoveen's Ode to Joy by the video's end.
The video also proclaims, "We have the Four Comprehensives, the Chinese dream is not far away!" while also telling us, "There will be no panic in our hearts, as long as food is not a concern and our hands are full of money."
To appeal to a younger demographic, the video also features its own "bullet screen", a style of internet commenting in which content contributed by online users is featured directly over the screen, flying from right to left. However, unlike actual bullet screens, it appears the content is provided by the video's creators and not from the public.
This video is very similar to other recent propaganda videos that use animation and music to disseminate CCP policies to the masses of China. An earlier propaganda video using rapping to explain the 13th Five Year Plan was released last December. Another music video about the 13th Five Year Plan was released last October that featured Terry Gilliam-inspired animation and folksy sing-a-long pop lyrics in English.
When it comes to winning over the minds of the Chinese public, the "Four Comprehensives" has long had its supporters. First made public by Chinese President Xi Jinping at the end of 2014, the Global Times announced in February 2015 that the new policy is a "governance blueprint that is understood and supported by all people in the nation" that "has won people's hearts".
We'd look forward to hearing the CCP and its videos take part in epic rap battles, but the problem then would be finding it some competition. Some 120 songs, almost entirely rap songs, were banned by the Ministry of Culture last August.
Here's the video (with English subtitles):