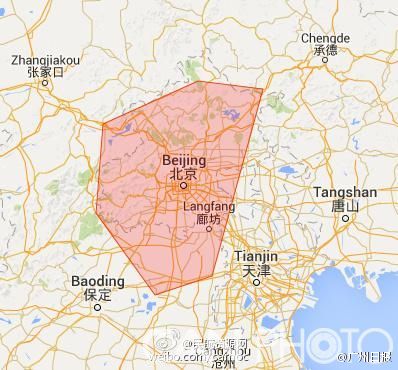 China will be celebrating its newest holiday on September 3 when the 70th anniversary of the end of World War II will be marked with all kinds of pomp. But for any industrious Beijingers who are looking to get away from the capital during the short break, consider yourself warned: don't schedule a flight on this day.
From 9:30am to 12:30pm on September 3, Beijing International Airport will shutdown operations and temporarily suspend all flights in and out of the airport.
As well, the airspace above Beijing and the surrounding area will become a prohibited area at this time with the creation of a no-fly zone (seen above).
The eastern branch of the Civil Aviation Authority of China (CAAC) says the flight restrictions are to ensure the smooth operation of that day's military parade, which will celebrate "China's victory over Japanese imperialist forces".
And with military aircraft involved in the festivities, there will be a lot of practicing to do before the big day arrives. What this means for airline passengers is that for the rest of the summer until September 3, you should expect delays. The CAAC says the military practicing should only take up one hour every day at the very most.
With September 3 falling on a Thursday, workers in China will have a three day holiday (September 3, 4, and 5). However, it's back to work on Sunday, September 6 which has been designated a regular work day. The September 3 holiday comes at a time when China's usual September holiday, Mid-Autumn Festival, falls on a Sunday (September 27), so this should help offset that loss.
The last military parade to be held in Beijing was in 2009 when the 60th anniversary of the Chinese Communist Party was commemorated.
China's airspace is heavily regulated and is controlled by the country's military, reported to have been the source of several airport closures and airline delays in the past.
Related: