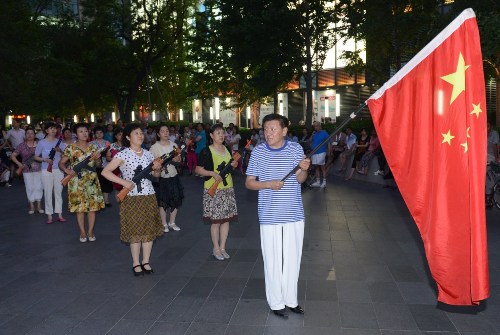 "Dancing grannies", the hallowed institution of Chinese culture that may be exported to Australia and has appeared in Moscow's Red Square is under attack. After countless disputes across the country, a law has recently been passed in Xi'an forbidding the notorious dancing troupes from engaging in any "granny dancing" between the hours of 10pm and 7am.
Crackdowns on granny dancing aren't anything new, but a stalwart troupe of granny dancers in Beijing may be looking to evade any criticism by changing the way they dance. This group has moved away from traditional fan dances and scarf waving seen in plazas around the country, instead turning to that other cultural institution: bashing the Japanese.
A group of dancers was recently seen performing near the Raffle City shopping mall in Dongzhimen, Beijing. There, granny dancers armed with toy AK-47s danced in formation and waved their replica firearms in the air in an activity described as "killing bastards".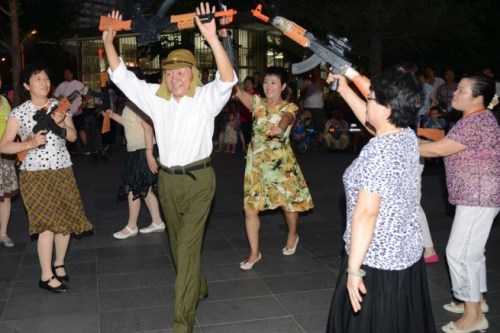 A man carrying a gun and wearing the hat of a 1940s Japanese imperialist soldier served as the focal point for the dancers. According to 163, the man reportedly wore a T-shirt that said "Jap bastard". As part of the performance, the man dutifully raised his weapon and surrendered.
We can only suppose the off-Broadway dinner theater musical Nanjing! Nanjing! will open next.
Related:
Photos: 163