There are few roads in the world that inspire such wanderlust like the Karakoram Highway. Extending from Kashgar, China to Punjab, Pakistan, the highway covers over 1,300 kilometers (800 miles) and reaches an elevation of 4,693 meters (15,397 feet). The scenery along the entire route is breathtaking.
Most people take a bus or taxi across the Karakoram. I decided to take a bicycle.
I have been across the Chinese side of the Karakoram Highway a few years ago but this would be the first time that I would turn it into a bicycle adventure.
I filmed the entire adventure and below is Episode 1 of 8 that will be published over the next couple months. If you enjoy the video, please give it a thumbs up!
Don't miss the rest of this season! Subscribe to FarWestChina on YouTube.
Biking the Karakoram Highway | The Plan
The trip was organized by a good friend of mine here in Urumqi and we were able to get a total of five guys on board – three Americans (including me), one Aussie and one Chinese.
The plan was to take a bus from the old Silk Road city of Kashgar (喀什) up the Karakoram Highway to Tashkorgan (塔什库尔干) and take our time riding back. We planned a total of about 460 km (285 mi) of biking, a trip which could reasonably be done in about three days but we decided to stretch it out to nine so that we had time for other activities, including:
Exploring the Tajik town of Tashkorgan
Witnessing a Tajik game of "Goat" (Buzkashi)
Hiking to Base Camp of Muztaghata
Camping at Karakul Lake
We knew from the start that it was going to be an incredible adventure and looking back I'm happy to say that I wasn't disappointed in the least with both the journey and the scenery.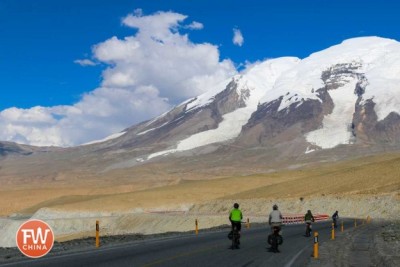 State of the Karakoram Highway
When we departed from the Pamir Hostel in Kashgar, we were told to expect up to 12 hours of driving on a stretch of road that usually only takes about 6-8 hours on a normal day.
Why? Heavy rains in early August had prompted flooding in the area, which meant washout on the highway. It's for this very reason that the Karakoram Highway has been a nightmare and a bottomless pit of money for the Chinese government. Constant floods, mudslides, rockslides and snowdrifts disrupt traffic and require constant maintenance on the road.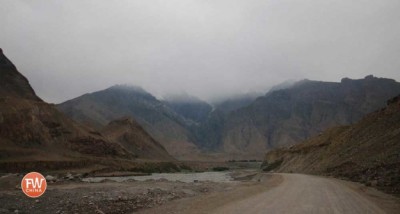 I'll go into this in more detail in Episode 4, but there are actually a number of different iterations of the Chinese Karakoram Highway which we saw along the way. It's been rebuilt so many times that we often cycled alongside older roads that were no longer in use or which, in one case, actually disappeared into the middle of a lake (the building of a dam caused waters to rise which, in turn, required a section of the highway to be rebuilt…again).
The most noticeable change in the Karakoram Highway, however, was seeing what was yet to come. In a few years, a brand new highway will be opened with large stretches that are elevated so as to avoid the problems with washout and mudslides.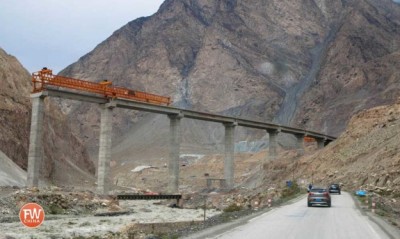 For cars this is good news. On a bike, however, I have to admit that I thoroughly enjoyed the rough, unpaved sections of the Karakoram Highway that let me truly experience "mountain biking" at its best.
More from FarWestChina Season 1
This is just the beginning of the new 8-part series of videos on biking the Karakoram Highway! I hope that you'll stick around for the remainder of Season 1, either by subscribing on YouTube or getting email alerts each week.
If you're just looking for some beautiful photos and videos, I promise you'll enjoy what's coming up.
If you want to plan your own trip up the Karakoram Highway, each episode and corresponding writeup will end with a "How to" section that will give you details of what we did and how much it cost (see below). I hope it can be of help to you!
Don't forget, if you're traveling to Xinjiang your best bet is to grab a copy of the FarWestChina Xinjiang travel guide (free chapter download available).
I know this is a bit of self-promotion, but if you don't believe me that it's the best guide available for the region, just read all of the Amazon reviews yourself.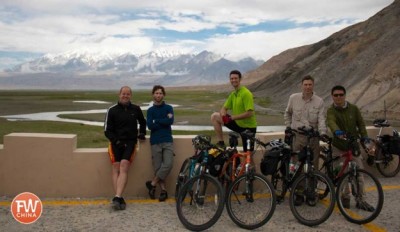 That's me on the left in the lovely bike shorts ;)
How to Bike the Karakoram Highway
Ok, now for the details. What I'm about to share here is how we organized the bike trip. There are many other ways to do it and I'm not advocating one over another, just sharing what we did.
Kashgar Lodging: We stayed at the Pamir Hostel but I've also spent time at the Old Town Youth Hostel, both of which are excellent options. If you want something a bit more comfortable, I highly recommend the remodeled Qini Bagh Hotel.
Tashkorgan Lodging: We stayed at the K2 Youth Hostel which was awesome. For a more comfortable stay, I recommend the Crown Inn.
Bike Rental: there are a couple options for renting a bicycle. The first is to rent a bike at the K2 hostel in Tashkorgan (50RMB/day), although this might be difficult since they want you to return the bike to the hostel. In my opinion, the best option is to rent either at the Pamir Hostel or at the Giant store in Kashgar (0998-6401616), both of which rent for 50RMB/day. You can put the bike on a bus up to Tashkorgan. No matter which option you choose make sure to reserve your bike ahead of your trip. They don't have many bikes available and from what I saw, they go fast.
Organizing the Trip: While it's possible to organize this trip on your own, it's a bit risky. Our group had all the appropriate paperwork stamped with the all-powerful red stamp, so our dealings with the area police and checkpoints were thankfully simple. We heard of others getting turned back on the journey because of incorrect paperwork. The problem isn't biking: the problem is setting up a tent on the side of the road (permit needed) or hiking up Muztaghata (permit needed along with payment of an "environmental protection" fee). Working with a travel group also let us know what was strictly forbidden (i.e. hiking on the west side of the highway near Karakul) and gave us the opportunity to experience incredible cultural events in Tashkorgan that we wouldn't have known about otherwise.
I'll share more of the "how to's" with each new episode, which will be published weekly over the next 8 weeks. If this has been helpful or if you have any question, please leave a comment below!