An air quality report published by a Peking University research group has taken the government to task over its pollution data, saying the problem is worse than the government is admitting and that measures to clean up Beijing's smoggy skies aren't working.
Titled "Air Quality Assessment Report", the research group found that the average daily reading of PM 2.5 levels in Beijing last year was 98.57, 15 percent higher than the government statistics that say 85.9.
Even more alarming is that the report claims that Beijing has had twice as many days with severe air quality than the government has admitted. This gives us the shocking finding that Beijing has had five polluted days out of every seven for the last two years.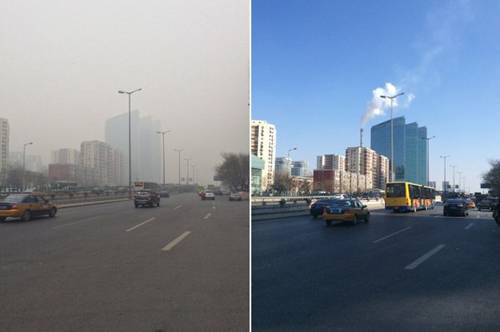 Researchers from the Peking University's Scientific Statistics Center and Guanghua Administrative Academy reached their conclusions by using air quality data from the US Embassy in Beijing from 2010 through to 2014 as well as official government data beginning in April 2014. Official air quality records before then have not been disclosed by the government.
Researchers compared the hourly PM 2.5 reports of the US Embassy with six official air quality monitoring stations throughout Beijing in July, 2014 and found them all to be highly consistent with each other. However, even though experts will say the US Embassy only gives pollution data for one spot in Beijing, the researchers found a city-wide system of air quality monitoring stations may also not provide an accurate assessment of Beijing's pollution problem.
Beijing has 35 air quality monitoring stations throughout the city. But these stations, often located far away from each other, provide a wide variety of results due to their surrounding environment and other factors. When it comes down to providing daily statistics on PM 2.5 readings, the report found that the final result is the average of all monitoring sites combined, no matter the discrepancy between them. In other words, if the air is cleaner in rural areas, it will drag down the PM 2.5 reading when balanced with higher urban pollution levels.
Worse, the report says the government hasn't done enough to fix the pollution problem. It says:
This signifies that despite adopting extreme measures in Beijing to fight against air pollution for the past two years, the situation has not changed.
The news was reported by Caijing yesterday evening, but the report has since been removed from their website. A cached version can be found here. 163 News has a version of the story here.