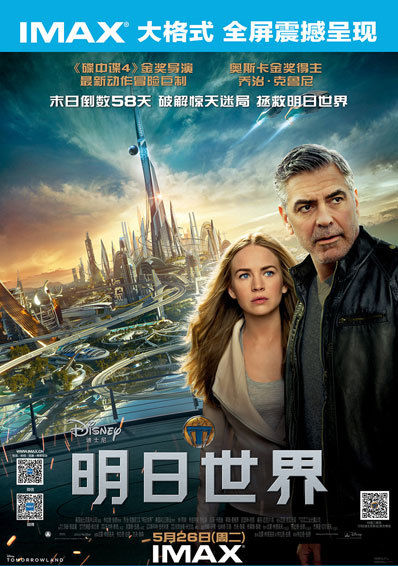 China has an unceasing appetite for Hollywood blockbusters, propelling box office receipts of films released in China into hundreds of billions of yuan. However, the undiscriminating nature of Chinese audience towards films that aren't received well by Western markets is starting to be a topic of concern in China.
In an article titled "Is China rescuing Hollywood's flops?", China Daily quotes Forbes in describing China as "a sort of haven of second chances for films that disappoint in North America and Europe," and that the tastes of Chinese audiences often "go against the global tide" when it comes to questionable films. China is the fertile ground upon which Hollywood dumps its trash.Sina drops the pretense and directly reports that China is the fertile ground upon which Hollywood dumps its trash.
Forbes' Rob Cain made the observations after poor Chinese tickets sales for Tomorrowland, the George Clooney vehicle upon which high hopes were placed after a disappointing domestic showing of only $41 million over the Memorial Day weekend. Instead of righting the wrongs of US audiences, Tomorrowland made just $3 million on its opening day in China.
But whatever Cain may be inferring about Chinese tastes (and whatever China Daily may be objecting to), it's clear that many films have found a second chance with success at the China box office.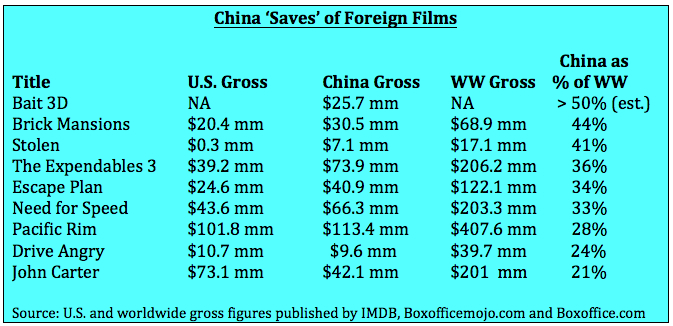 Cain points out that films considered flops elsewhere in the world have found strong support in China, including Cloud Atlas, Need for Speed, and Brick Mansions, while some films like Expendables 3 and Bait 3D have the distinction of only finding success in China alone.
However, instead of echoing a long-heard refrain that Chinese are unique with their own set of characteristics, experts interviewed by China Daily are instead insisting that yes, China does rescue Hollywood flops.
"Many Chinese audiences are new film viewers and their appreciation of those works are not fully developed. So it is easy sometimes to generate the situation where the film quality and box office are upside down in the Chinese market, " said movie critic Raymond Zhou.
Zhou said that compared to western audiences, the art of film is still a relatively new entertainment in China. "The maturity of the Chinese film market is more or less equivalent to the 1980s in other industries," said Zhou. And it's not just Hollywood flops that do well at the Chinese box office. Widely-panned domestic films like the exacerbating Tiny Times film series or The Break-Up Guru have done exceptionally well with Chinese audiences.
"In China, the review of a film and its box office is not strongly related, according to my experience," said film director Donald Li.
So while China Daily may have hoped to inspire some soul-searching among its readers, most netizens glibly acknowledged their taste in movies as being something beyond their control. Here's how they put it:
善良的桃白白:
This is because (films) made in China are even worse.

吕靖:
This is because you (foreign media) don't know how bad domestic films are in China!

Skyline_NY:
Bad Chinese films are even worse. Take for example, Tiny Times. This film has a high box office gross, and yet any foreign film is better by comparison.

Painting_by_Chagall:
Actually, the foreign media doesn't understand how bad Chinese-language films are. Therefore, when making a comparison (between Chinese and non-Chinese films), it's not that (we) have such 'unique' tastes, but that we are only allowed to watch these bad films!

巧克力花喵:
'Chinese audiences often go against the tide of popular world trends'…. Hahahahaha

熵妖花1322:
Actually, this is something that can be easily explained. In a place where piracy runs amok, deciding to go to the theater in China is not something that depends upon the quality of the film, but whether going to the theater provides a better experience than watching the movie at home. It's about whether or not the theater has 3D technology or other kind of special effects provided for the audience.
Among other considerations, Chinese films are all subject to censorship by state institutions. Upon accepting an award for "director of the year" from the China Film Directors Guild, Feng Xiaogang said, "In the past 20 years, every China director faced a great torment, and that torment is [expletive]."
The word censored from Feng's speech is "censorship", if that wasn't clear enough. Feng went on to say:
A lot of times when you receive the order [from the censors], it's so ridiculous that you don't know whether to laugh or cry, especially when you know something is good and you are forced to change it into something bad. Are Hollywood directors tormented the same way? … To get approval, I have to cut my films in a way that makes them bad.
Related: