After facing international competition from bids from Japan, Germany, and France, a train maker from China has been selected to help build a high-speed railway between Los Angeles and Las Vegas. The future railway is a collaboration between China Railway International USA and XpressWest, a venture established by the Las Vegas-based hotel and casino developer Marnell Companies.
In a joint statement, CRI USA and XpressWest said they will accelerate plans for the 230 mile-long railway, with construction expected to begin in September 2016.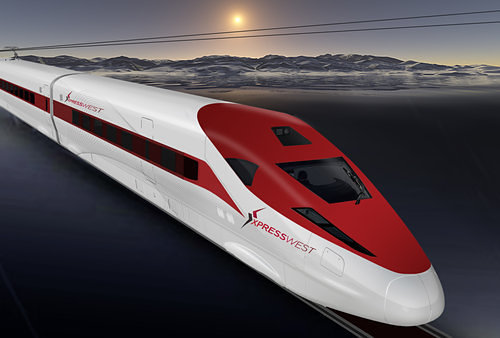 The expected date of completion for the railway was not announced.
With speeds of 150 miles per hour, a trip between Los Angeles and Las Vegas is expected to take just an hour and twenty minutes by train, compared to about four hours by car.
The railway line is expected to have stops in Las Vegas, Nevada as well as Victorville and Palmdale, California. However, as Curbed LA notes, Victorville is located 85 miles away from downtown Los Angeles, requiring 90 minutes of travel by commuter rail system Metrolink in order to get there.
About $100 million of capital is being invested in the project initially, though Chinese officials have not been specific about the source of the money.
"They are the 900-pound gorilla," said Rod Diridon, former board chairman of the California High-Speed Rail Authority (CHSRA), the state government agency tasked with issuing the bid and selecting a manufacturer. "They have huge advantages, because they have so much funding."
The railway announcement comes at a time when an attempt to build another high-speed railway between Los Angeles and San Francisco has made little progress, and is currently expected to be finished by 2029. High-speed rail in the USA lags behind those in Europe and Asia, despite attempts made by US President Obama to encourage its development.
By contrast, Chinese-backed ventures have been very successful in winning train and railway contracts around the world in countries like Turkey, Saudi Arabia and Venezuela, albeit sometimes controversially.
When CNR Tangshan Railway won a $567 million bid to supply Boston with trains, local residents protested against the partnership on the basis of China's human rights abuses. Meanwhile, a Chinese-backed bid to finance a proposed $3.75 billion high-speed railway system in Mexico ultimately failed due to a political scandal.
The announcement also arrives days before a scheduled state visit to the USA by Chinese President Xi Jinping.
Related: