Chinese movie star Yuan Li has some harsh words for any Chinese women that dream about marrying a foreigner: you're in for a world of pain and suffering.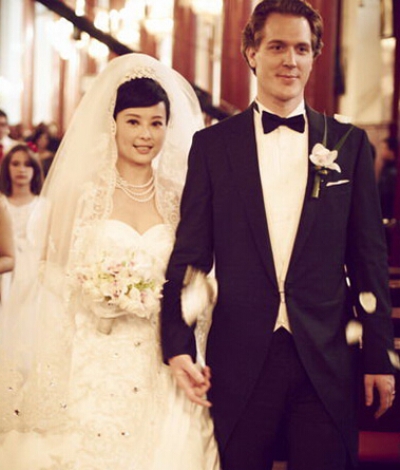 The 42 year-old actress recently gave an interview where she opened up about her 2011 marriage (seen above) to Canadian Blaine Grunewald, the CEO of Lehman Bush. Usually reticent to talk about her private affairs, Yuan revealed how her marriage to a non-Chinese has both been painful and has served as a valuable lesson. Speaking from her personal experience, Yuan said:
You (can) better appreciate Chinese men after marrying a foreigner.
If that doesn't sound like an endorsement of foreign husbands, it gets worse. Yuan described her cross-cultural marriage this way:
It was like a stuck gear made of flesh and blood, clacking away, grinding down upon my heart and my soul.
The actress of the 2011 Chinese remake of What Women Want said that she and her husband have come to terms with their marriage after years of tolerance and understanding, but still doesn't think very highly of their relationship, saying she "can't say it's especially good or bad."
Yuan also admitted that things had gotten so bad that she considered divorcing Grunewald at one time.
Grunewald is Yuan's third husband after having divorced actor Zhao Ling and her first husband Xu Wei, with whom Yuan shares a son.