Beijing will soon be the only city in the world to host both the summer and winter Olympic games, as it recently beat out its only competition, Almaty, Kazakhstan, to host the 2022 Winter Olympics.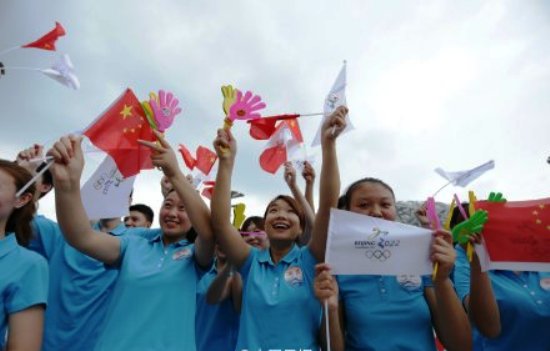 Beijing's Olympic bid was supported by a delegation that included basketball star, Yao Ming, and rising hockey prospect, Song Anding. Although crowds cheered and waved flags in support of the bid, there didn't seem to be as much netizen support as there was 14 years ago, when Beijing was awarded its first Olympic games:
三三胡子:
Here you are again, frickin' using the sweat and blood of the common people just to give yourselves face. [angry.emoji]

流云_64814:
No idea how much taxpayers' money they're going to waste this time; no idea how much profit they'll make from abuse and corruption.

cyjz80:
Numb. The people of China are weary at having to bid for all of these different sporting events. Numb! This has nothing to do with the ordinary people of China, and is just a huge waste of taxpayers money!

snailsnail1018:
Waste of time and money.

菜包子要加油:
What does a single dime of this have to do with me?

常州遥远:
A country bad at sports that thinks by holding the Olympic games it can raise its world standing. When the USA hosts the Olympic games, they make a profit, but when China hosts the games, they just burn (stacks of) money. And then when (China) gets hit with a (natural) disaster, it asks others for donations.

muscle贱贱:
This country is still ruled by the officials! History repeats itself.

黄花鱼的呐喊:
Waste of time and money. Here we go with another squandering of the public's resources!!! [cry.emoji] [angry.emoji]

人称小武哥:
What is there to cheer about here?

文刀片:
With the application for the winter Olympic games successful, this again proves the mighty strength of China and its high position in the world. This will have a positive impact upon our country's society, economy, politics, culture, and education among other areas. I heartily thank those hardworking workers and selfless Olympic staff members.

画圈圈的女鬼:
I don't understand why other people are writing that this is a 'waste of time and resources'

勿忘心安亦成彩:
Yes! We have succeeded!

xiaocici莹02:
So happy!!!!!

小小跟班班:
(directed towards the reporter who wrote the story) Did you prepare your draft in advance?

sese的浪味仙:
I saw the live broadcast [crying.emoji]

潇湘子_:
I knew (Beijing) would win because the (announcement) was broadcast live.

KumaQi熊麻麻:
China is terrific [heart.emoji]

周松_panda:
Bless our magnificent homeland.

汕头潮师新协会:
Looks like Beijing will have to roll out the "APEC blue" again.

-我一直都在-:
How come no one hugged Yao Ming (after the announcement)?

iamyu3307575161:
Beijing won't be Beijing anymore. A complete mess!

Win4ever:
Waste of money, just burning taxpayers' money.

淼淼微音:
Pity the masses; with no right to not support (the Olympic games), they have no choice but to back it.

小小sales:
Does this mean that we're going to have to delay our retirement again?

我把小张吓飞了:
Excited!

水哥38154:
Has nothing to do with the common people.

(The following comments are in response to news that the air in Beijing will be cleaned up by 2022)

晴月12345:
Last year it was said that it will take at least 30 years to clean it up. Is this some kind of quickening?

特别不能用:
In fact, if he said that the probably will be solved by tomorrow, I'll still believe him.

wkakawa:
Hebei, Tianjin, Shanxi, and Shandong will all suffer a calamity as a result.

漂泊的魷魚:
They made this same amazing boast for the '08 games as well.

又蒙了:
Again they'll make people in (neighboring) Hebei stop burning (fuel).

old杨_t9c:
Close or suspend factories, limit car use, shut down construction sites. But once the foreigners leave, it'll be the (same) behavior again!