A foreign woman was stopped at Guangzhou Airport's security on March 16 for having a bottle of liquid in her luggage.
As everybody knows (or should know), you can't pass through security with any liquid. So she was asked to drink the liquid, and did. However, she appeared not to swallow. When the security staff asked her to spit out the liquid, it emerged that she was trying to sneak some tadpoles onto the plane, Southern Metropolis Daily reports.
After being caught at around 9 a.m.,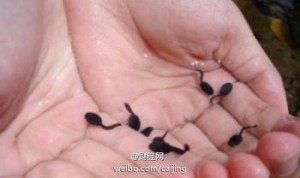 the foreign woman explained to staff that the tadpoles were a gift from a Chinese friend and she didn't want to get rid of them. But in the end she had to.
The airport stressed that passengers are forbidden from taking animals onto a plane without registering them first.
It definitely isn't the weirdest thing people in Guangzhou have put into their mouths, but at least it wasn't as obvious as taking a human leg through airport security.