Chinese internet users have dubbed a photo of French President Francois Hollande with several Chinese tycoons, the "one trillion yuan selfie" ($157.8 billion), referring to the net worth of the individuals shown.
Taken at a breakfast described as "bling bling" by China Daily, the photo included Alibab's Jack Ma, the chairman of Dalian Wanda Group, China's richest man, Wang Jianlin, and founder and chairman of Lenovo, Liu Chunazhi.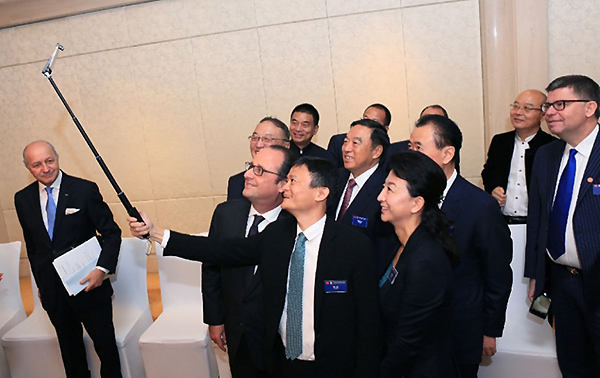 Chinese netizens were impressed by the gathering of uber-wealth; the top-rated comment joked,  "Even my 'grandpa' knows how to dip the head and tuck in the chin (when taking a selfie)."
Similar comaradarie between East and West was recently seen during the "golden" UK state visit of Chinese President, Xi Jinping. Besides a casual visit to a British pub for some fish and chips, Xi joined British Prime Minister, David Cameron, and Manchester United striker, Sergio Aguero, for an informal selfie that was posted to social networks.
Selfies have been a hot promotional tool for Chinese politicians in 2015. In May, Chinese Premier, Li Keqiang, posed with the social media-savvy Indian Prime Minister, Narendra Modi. And in April, Xi had the first selfie of his presidency taken with Indonesian politician, Fadli Zon.