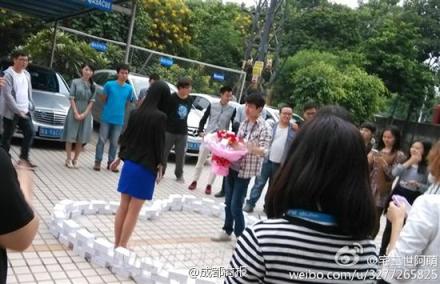 Since the inception of Singles' Day in China several years ago, millions of singles throughout the country celebrate the day by trying to woo that special someone. Yet one young Guangzhou resident chose a rather unique method to express his love in the lead up to November 11: iPhones, and lots of them.
There's been no shortage of reports detailing extravagant Singles' Day gifts such as a new car, or giant diamonds, but one Guangzhou programmer instead opted for 99 iPhone 6s. To his credit, he organized the phones in the shape of heart before proposing to his girlfriend in front of a sizeable crowd of friends and onlookers.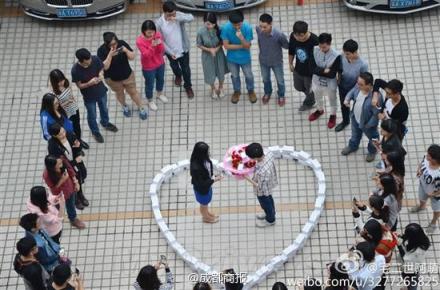 The phones reportedly cost the man over RMB 500,000 (about $82,000), or roughly the equivalent of two years' salary, Tencent News reported. Sadly, the grand gesture was lost on the woman, who rejected his proposal.
Thankfully, demand for the new iPhone remains high in China, so he shouldn't have too much trouble reselling them as one Weibo user suggested. Others simply dismissed the guy's move as stupid. One user, 韵母和韵父, asked "How many kidneys did it take to buy those phones?" referring to earlier reports of a young man selling his own kidney to buy an iPhone. Another user wrote, " 99 kidneys!"
For those who might be wondering how November 11th was chosen as Singles' Day, the answer resides in the four lonely "1"s that form the date: 11/11.
 Photos: Weibo