The recent decision by the British government to adopt Chinese teaching practices has highlighted the differences between East and West. But are Chinese schoolchildren really that different from those in the West? Aren't kids the same everywhere?
When it comes to what they eat, the answer to that question has been made clear in a recent photo spread by Xinhua. Ten students and their lunches were featured, showing a disparity of food that ranged from home-cooked meals to cafeteria food to fast food. Furthermore, the spread showed a wide range of cuisine that showcases the regional differences of each student.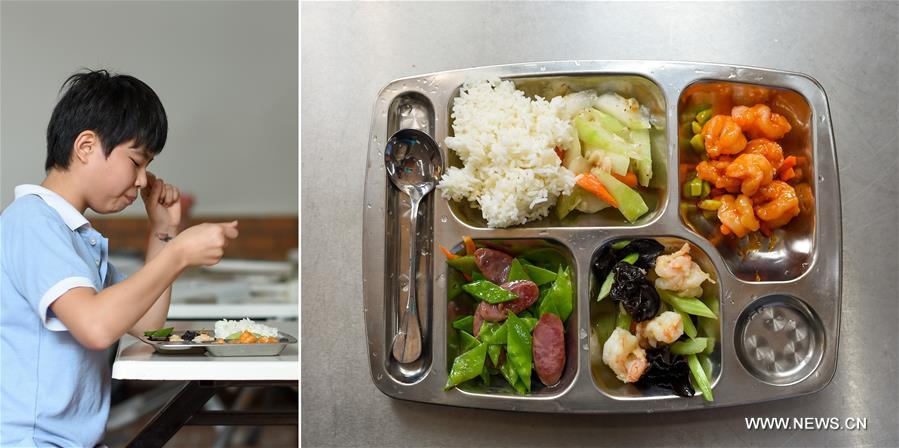 At a welfare center in Tianjin, 13 year-old Jingjing is having sweet and sour fried shrimp, shrimp with celery and cloud ear fungus, sweet preserved sausages with green peas, boiled winter melon and carrots, and steamed rice (shown above).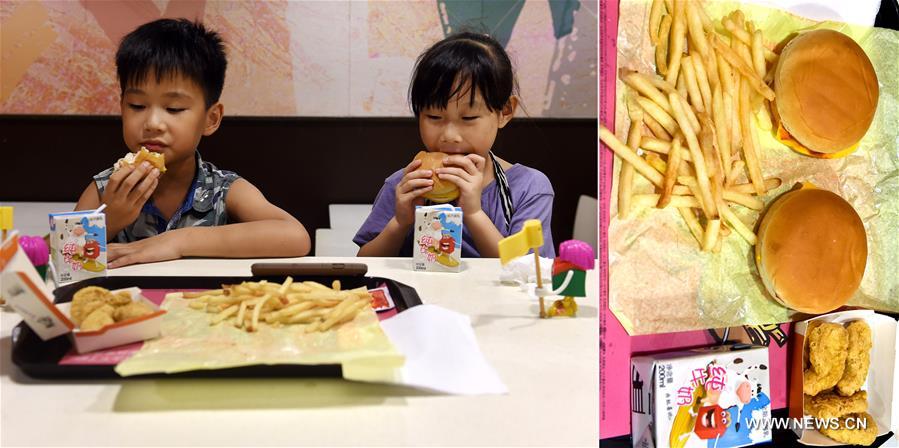 At a fast food restaurant in Zhengzhou, Henan, six year-old twins Wang Junye and Wang Yuxin are eating hamburgers, fried chicken nuggets, french fries and milk.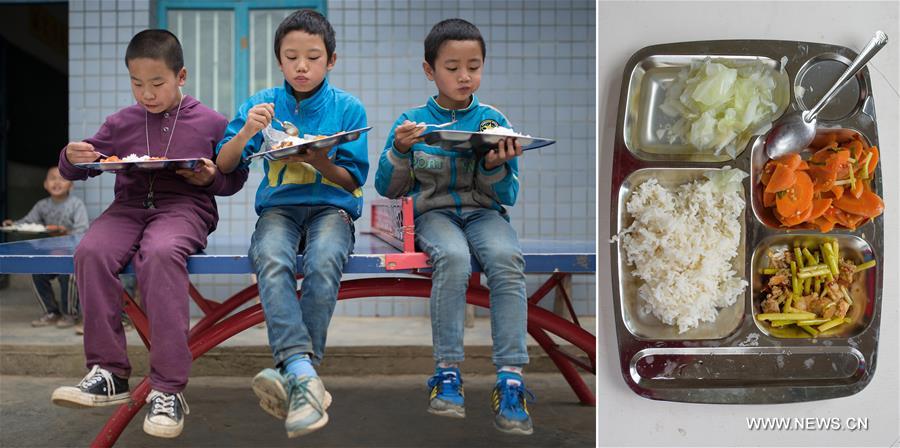 Fourth year student Jin Guangjie is having lunch with his classmates in Qianxi, Guizhou that consists of steamed carrots, pork with a strong-textured reed-type vegetable, boiled vegetables, and steamed rice.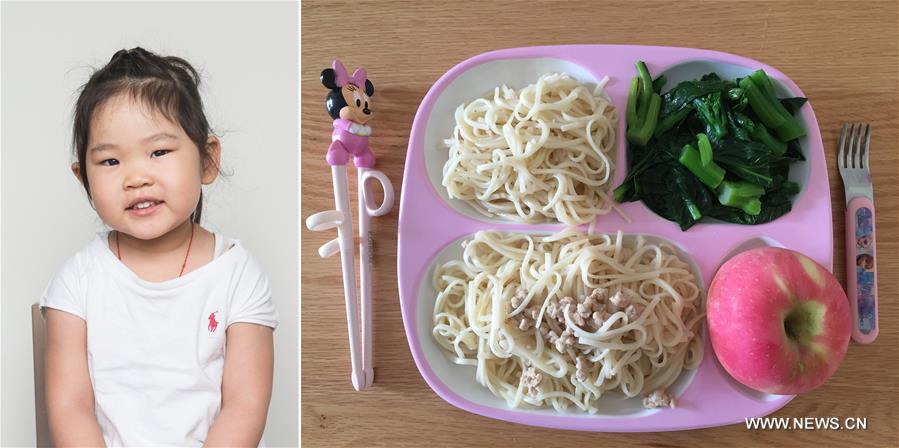 At her home in Hong Kong, three year-old Lyu Haoyan is eating boiled noodles with pork, boiled bok choy, and a fresh apple.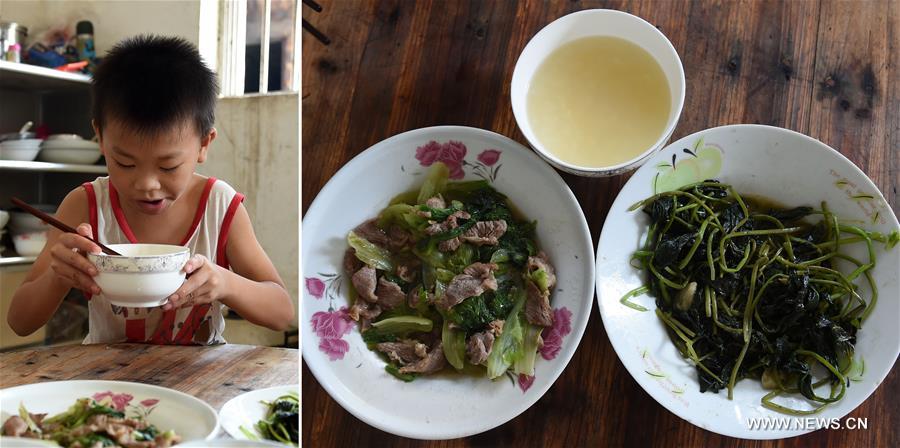 In a village near Nanjing, Guangxi, among the things nine year-old Wei Chengwei is having for lunch includes Chinese spinach and soup.
Eight Feng Kejia is eating Dico's fast food for lunch in Nanjiang, Sichuan that includes fried chicken and a cut-up hot dog on a toasted bun.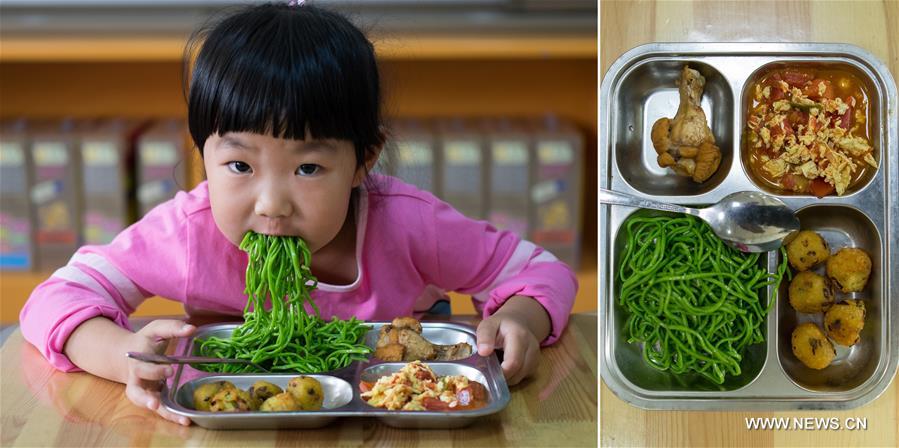 In Lanzhou, Gansu, kindergarten student Wang Xinyu is eating a lunch that consists of green noodles, fried chicken, tomato and egg, and fried taters.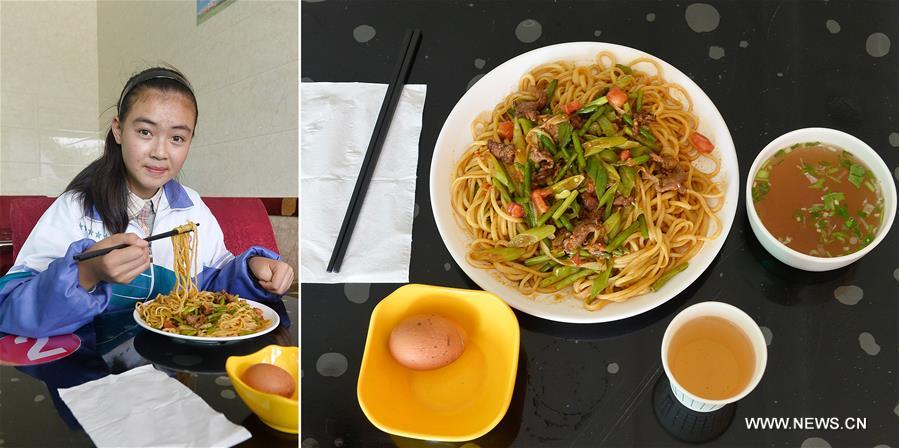 15 year-old Ma Lu is eating a boiled egg, fried noodles topped with pork and vegetables, and a chive onion soup for lunch in Wuzhong, Ningxia.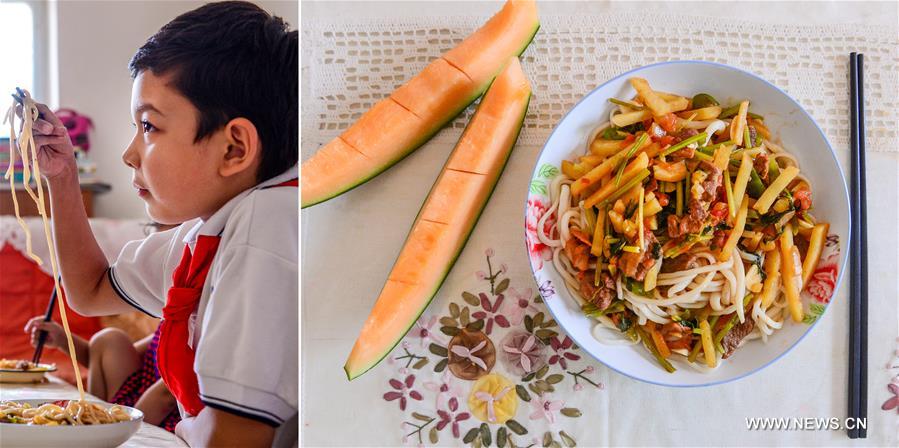 In Urumqi, Xinjiang, fourth grade student Alkin is eating a spicy regional noodle dish with potatoes along with slices of cantaloupe.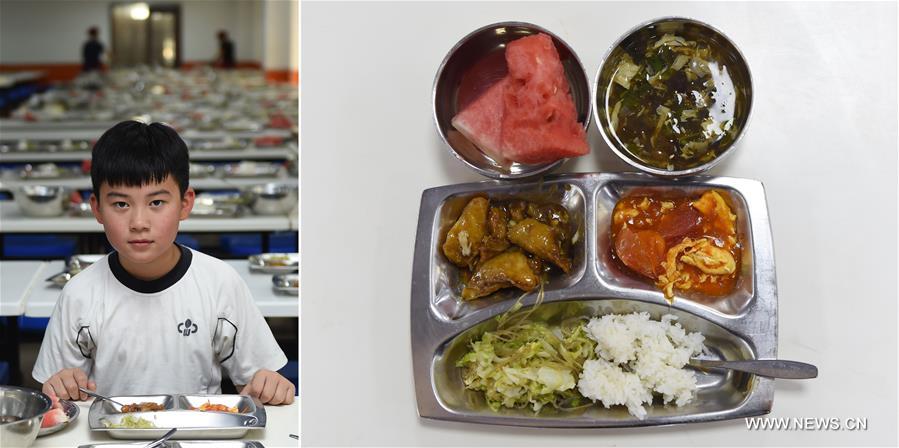 Zheng Bowen, a sixth-grade student in Beijing, has a lunch that consists of curried chicken, tomato and egg, seaweed soup, and watermelon for lunch.