Beijing residents were awakened late last night to the sound of an airliner that had lost its way after taking off from the city airport, straying within the third ring road area at a low altitude.
Transaero flight UN8888 to Moscow took off from Beijing International Airport at 1:17am, and was witnessed three minutes later by residents living in the Dongbianmen and Guomao in the south-eastern parts of the city.
The low-flying flight is said to have been heading west further into the city after entering the third ring road, but turned around after reaching the south-east corner of the second ring road.
The incident was widely shared online by netizens, with some estimating the model B763 airliner to have been flying at 1,500 meters, or 5,000 feet.
A netizen living near Huawei Bridge said they were woken up by the deafening sound of the airplane and saw it upon going to their window. "The sound of the engine was so close, it was like right over my head and scared me half to death," the person said.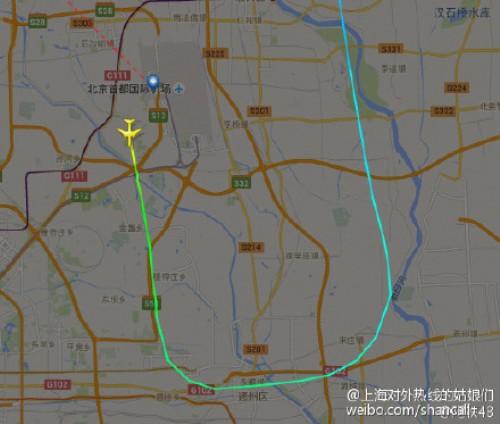 As seen by the green path in the diagram above, airplanes departing from Beijing Airport (designated by an airplane symbol) are supposed to follow a path south, then east, and then north in order to leave the city. Instead, the Russian airline took an irregular path that led it south-west deep into the heart of the city before making a stiff turn that led it east (diagram below).
As explained in media reports, the reason for the wrong turn is because the airliner captain made a navigational error. Air traffic controllers say they were soon able to correct the path of the airplane, and that the incident had not made much of an impact upon the city.
There is no word yet as to any punishments that will handed down due to the incident.
China's airspace is strictly regulated and heavily controlled by the country's military.
Related: