Located in the historic centre of Macau, only a few minutes' walk from Senado Square, there is a street whose traditional Chinese-style buildings and romantic name seem to take one back to a long-gone colonial era, in which the society of old China mingled with the cosmopolitan, busy lifestyle of the former European enclaves in the Far East. Lined with two-storey, grey brick Chinese houses with conspicuous red windows and doors, decorations and inscriptions that recount old legends, the street is a remarkable example of the mix of traditional Chinese architecture and Western patterns. Here the visitor feels as if time had stood still, and is finally able to imagine, far away from the modern casinos and shopping malls, how life might have looked like for ordinary people in old Macau.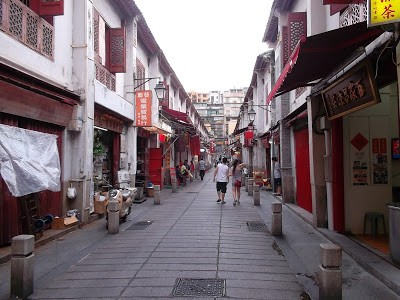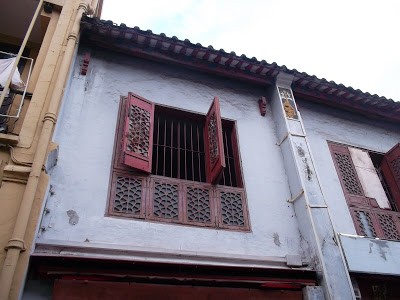 The "Street of Happiness", or "Rua da Felicidade", as it is called in Portuguese, evokes idyllic scenes of harmony and joy, and it might make one think of a simple, pure past, free from modern consumerism and sorrows. Yet nothing could be farther from the truth. The "happiness" to which the name refers, is, in fact, that of gamblers, opium smokers and brothel patrons. Well into the first half of the 20th century, the "Rua da Felicidade", or "New Street of Happiness and Prosperity" in Chinese (福隆新街), was Macau's red-light district, the centre of entertainment of what used to be the most prosperous commercial area of the Portuguese colony. Until the late 1940s, when the Macau government outlawed drugs and prostitution, brothels, opium dens, bars and gambling houses thrived in the "Street of Happiness".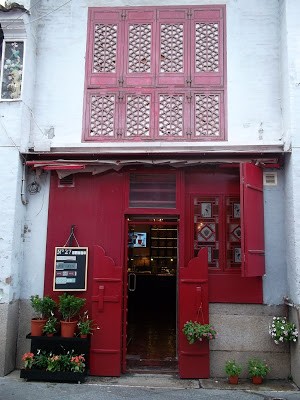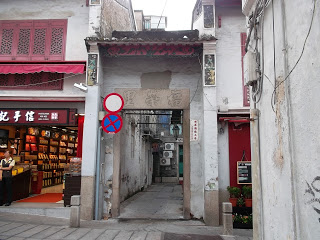 At daytime, the Rua da Felicidade was like any other street in the "Bazar" area of Macau. In the early hours, the windows of the houses remained shut as their dwellers rested from the night's travails. In the afternoon one began to hear the sound of people playing mah-jong, while music echoed from the "flower houses" – the sound of sing-song girls practicing their fine arts of entertainment.
The district awoke to life and prepared for the nightly business. At dusk, lanterns were lit and the girls began to put on their clothes and cosmetics. The less attractive sing-song girls, heavily made up, appeared on the street first, standing or sitting in groups in front of the doors, chatting and from time to time glancing at passers-by, one of whom could be their next patron. Yet the most beautiful girls, the most sought-after, did not need to leave their quarters. They waited for the messages of rich customers inviting them to restaurants, hotels or residences. But the happiness of the men was bought at a high price. Most sing-song girls had been forced into brothels by misfortune, at a very young age, often sold by destitute or greedy parents.
The sing-sons girls were more than just prostitutes. Like Japanese Geishas, they were entertainers, skilled in the arts of singing, playing instruments, and seducing. They had to learn to recite Confucian sayings, legends and poems. Their demeanor had to be feminine and humble. They were taught how to talk, move and smile, how to sing romantic songs in falsetto – in short, they played their roles according to an age-old etiquette. They were not there to simply satisfy the sexual needs of customers. As a matter of fact, clients often had to court them and to visit them a few times before they could become intimate.
[W]hether they were beautiful or, in the eyes of some Europeans, ugly, they were all fragile and dainty, all knew how to laugh modestly, to walk with short, careful steps, and to move their elegant, well kept hands and the rest of their body in suggestively erotic affectation. They possessed such refined manners that no one could ever feel ashamed in their company, and they were well known for the dignity of their behavior.
In Tea With Essence Of Cherry Macau writer Henrique de Senna Fernandes tells the story of Yao Man, a beautiful sing-song girl who lived in Rua da Felicidade.
In December 1943, Mauricio, a rich Portuguese from Macau, receives a visit from an "agent" informing him that a flower house in Rua da Felicidade is selling the virginity of a beautiful young girl to the highest bidder. The girl, named Yao Man, had been bought as a child and educated to become a sing-song girl. At seventeen, she has now reached the age to start her profession. Mauricio agrees to see her, and becomes infatuated. After tough negotiations, he agrees to pay 1,800 patacas for the privilege of deflowering her and living with the girl as her "husband" for five days, as was customary in Chinese red light districts (compare with the life of a prostitute in imperial China in the late-Ming tale "The Oil Vendor and the Queen of Flowers" by Feng Menglong).
A few days later, a magnificent banquet is given at the procuress's house in Rua da Felicidade. After the male guests have drunk and been entertained by the sing-song girls, Yao Man makes her entrance:
There was a brief silence as all our attention was directed towards her. In came the bride! She was dressed in a handsome red silk cheongsam, which hugged her, throwing into relief the curves of her slim body. She had a pretty oriental face, with almond eyes and salient cheekbones. She was certainly not of peasant background … Her wavy hair fell onto her shoulders, as if she had come straight from the hairdresser's. She moved with coquettish grace, and with a light and elegant step …

The girl was fascinating. Her whole being pulsated at that crucial moment in her life, when she knew how important first impressions were. From that night on, she would rise in the ranking of her world and achieve equality with others. Her small breasts heaved, heightened by the clever cut of her gown. She was happy, confident of her beauty and youth, slipping among the guests who honoured her. She displayed modesty, but at the same time, and this was part of the mystery of the pei-pa-chais, she left behind her a trace of eroticism that was hard to described. The madame surveyed her work. All that money used to buy and educate her had not been spent in vain. Her long hours of teaching, during which there had been no shortage of beating and other tortuous punishment, had produced a result that exceeded all expectations. And the sale of her virginity for a good price partly compensated for all her cares.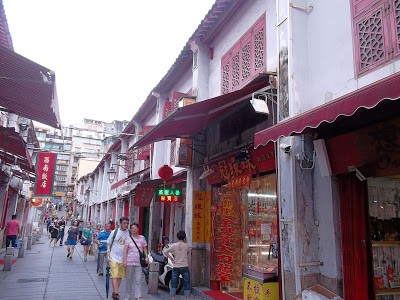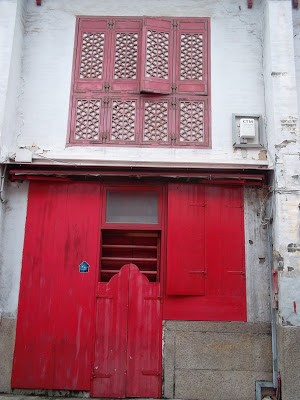 Nowadays, the decadent world of vice and pleasure of Rua da Felicidade has vanished forever. The former brothels have been renovated and turned into restaurants, shops, guesthouses and café's. The "Street of Happiness" has become an invaluable historic site, the only intact brothel district in China, with a unique architecture and atmosphere. Macau once again proves that preservation, instead of blind destruction, is the best way to deal with the past, however controversial this might be, and to pass on to future generations the heritage of a rich culture and history.