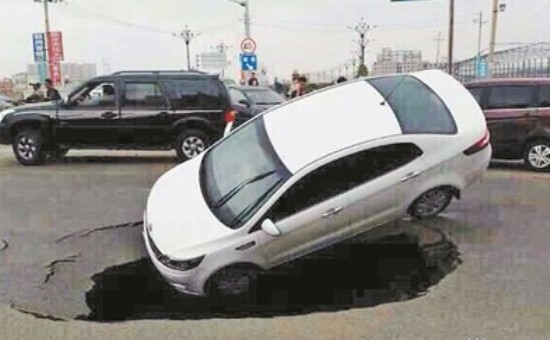 A massive two-meter deep sinkhole in Fujian is responsible for swallowing a car that inadvertently drove right into it.
A four-meter diameter sinkhole appeared at an intersection in Jinjiang on November 27 after a heavy transport truck drove over it. The driver of the car immediately following the truck was able to stop in time and avoid driving into the hole. But shortly afterward a white Kia K2 turned left right into the sinkhole that other drivers successfully avoided.
Two people in the car were able to escape as it teetered precariously over the hole. Mr Li, the driver, described the harrowing ordeal:
It scared me so much that I started sweating all over. My head went blank all of a sudden, I didn't know what to do.
Not long afterwards, the vehicle flipped over and landed inside the hole as it kept widening. It was eventually pulled out using a crane.
Fujian was the scene of another two-meter deep sinkhole last February. Sinkholes are also somewhat common in Dongguan, and are so common in Beijing that reporters are bribed to prevent them from publishing stories about them.
Here are two GIFs from a traffic surveillance camera that shows the sinkhole first being created, and the white Kia driving into the hole: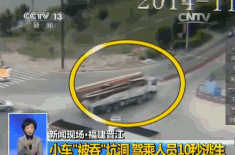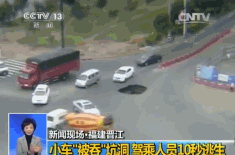 Here is a television report on the incident:
Photos: Quanzhou Evening Report, Sina News Video