At a cost of nearly RMB 80 billion, construction officially began on a new airport south of Beijing.
Located 46 kilometers from Tian'anmen Square, the new airport will serve the growing transportation needs of the burgeoning Beijing-Tianjin-Hebei supercity.
At the groundbreaking ceremony, China Bureau of Aviation director, Li Jiaxiang, boasted that the airport, scheduled to open in 2019:
…will have the capacity to handle 72 million visitors a year. Along with the (current) airport, these two Beijing facilities will be able to handle a passenger turnover of 150 million travelers a year, higher than any airport on earth.
Currently known as "Beijing New Airport", the complex will include a 700,000 square meter passenger terminal, and 20,000 square meters of space for other facilities. About 620,000 planes are expected to pass through the seven runways the airport will have upon the airport's completion.
Conceptual drawings show the airport looking like this: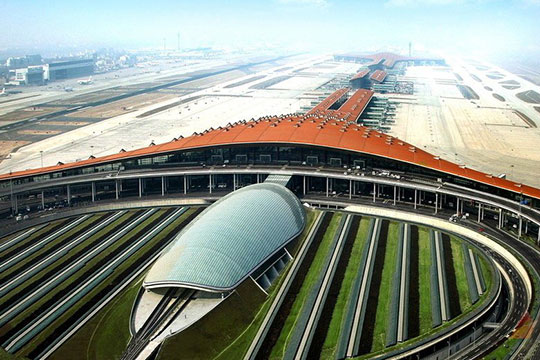 The new airport is located in an area that serves the three different regions of the future supercity: Daxing, Beijing; Langfang, Hebei; and Wuqing, Tianjin.
While the airport offers Beijing residents more traveling options, it is located much further from the city than the one currently in use. No Beijing Metro subway lines currently provide service to this area, as the most southern Beijing Metro station currently in operation is just outside the Sixth Ring Road.
To get a better idea of how far away it is from Beijing, check out this map. The location of the new airport is represented by the red "A":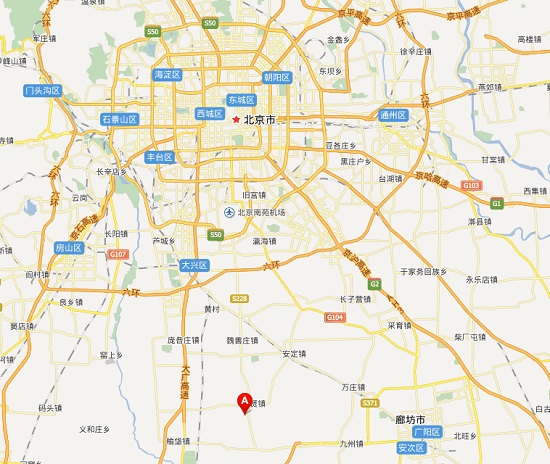 This map shows where the airport is in relation to other prominent locations: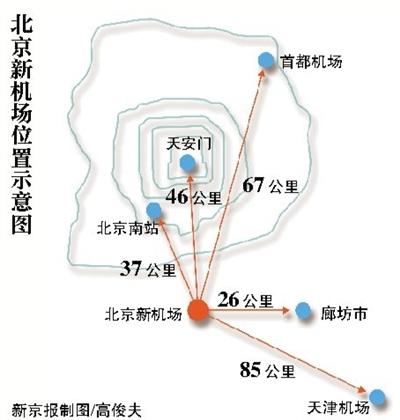 The new airport's location is 26 kilometers from Langfang, 37 kilometers from Beijing South Railway Station, 46 kilometers from downtown Beijing (Tian'anmen Square, seen in the middle of the rings), 67 kilometers from the Beijing Airport currently in operation, 85 kilometers from Tianjin Binhai Airport, and 197 kilometers from Shijiazhuang Airport in Hebei.
Photos: Sohu, Chinaso, Sobanks, 163, QQ, he.ce.cn