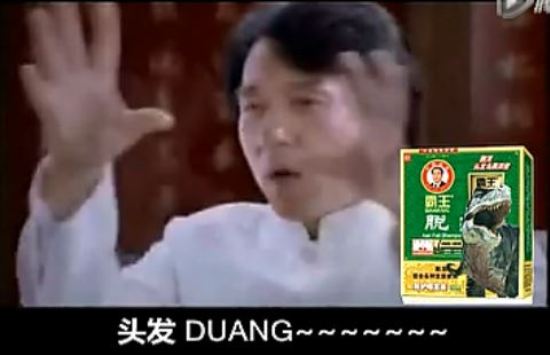 The hottest new phrase on the Chinese internet is "duang".
"Duang" is not a real Chinese word. It seems like it could be, though, since it has all the elements of being a Chinese character spelled out in pinyin. But even though it's a made-up, "duang" has taken the Chinese internet by storm, practically overnight. It's used all over Weibo by both private users and media outlets, has grown so big Xinhua has written about it and it already has its own Baidu Baike page (China's equivalent of Wikipedia).
Unlike many internet memes, the origin of "duang" can be directly attributed to a single source. In 2004, Jackie Chan made a commercial for a hair shampoo in which he acted as its spokesperson. The commercial featured an interview with Chan in which he said the following:
I don't want to say it, but when commercials are shot, they can add special effects afterwards, and the hair will be like "DUANG"! So rich! So shiny! So soft! (But if) I were to do that, the audience would scold me for not actually having this hair. …And after making the commercial, the hair is still mine. You don't have to add any special effects.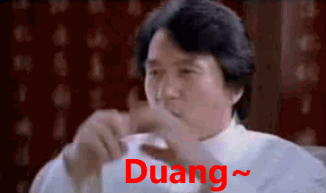 A video was made that repurposed Chan's words in the commercial to mean things he never said, all while emphasizing Chan's use of "duang" to signify a sound effect used to present something in a positive light. It's similar to the "sproing" sound a cartoon character makes from appearing so suddenly that he is still reverberating in place like a spring.
Jackie Chan is famous for saying things that eventually come back to haunt him, but he hasn't experienced anything like this before. Chan sent out the following post on February 24: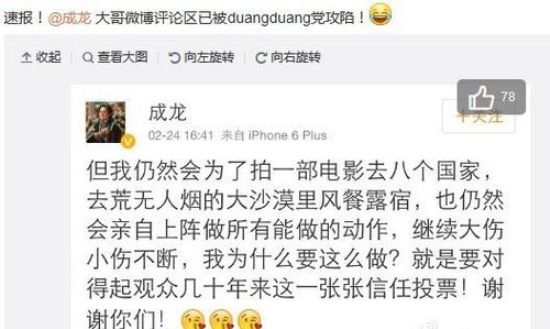 However, I am still willing to go to eight different countries to shoot a movie. I will go to a barren, uninhabited desert to camp out, am willing to do whatever it takes to complete the (action) shot, will continue to bear all sorts of injuries, and why would I do this? It's out of respect for all the fans who have given me a vote of confidence for several decades. Thank you all!
Remembering his words from the 2004 commercial, netizens responded by quoting him: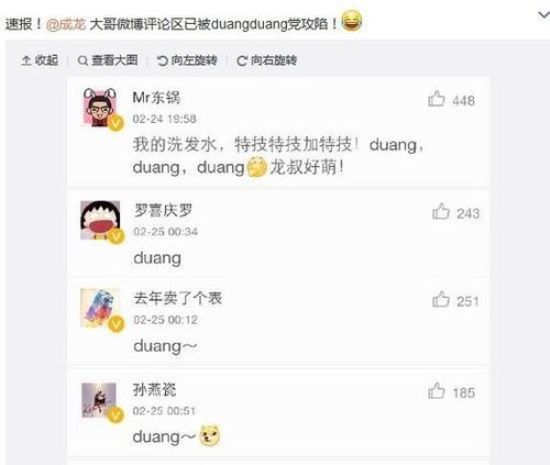 My shampoo is full of special effects, special effects, and special effects! Duang, duang, duang! Uncle Jackie, you're so cute!
It looks like netizens are giving Chan a taste of his own medicine, but "duang" also appears to be part of a growing trend by Chinese netizens to enliven their online discourse with "Chinglish". "Duang" follows other Chinglish phrases like "no zuo no die" or "zhuangability", showing how netizens appropriate English (or, at least a basic understanding of it) as a way to create new words that isn't possible with Chinese characters.
As such, there is no Chinese character for "duang". It is spelled exclusively using English letters.
In this way, "duang" is used by netizens to mean "the improvement of something by adding special effects", something that implies the subject in question is fake.
Still unclear? If the version on the right is "duang", then the version on the left is untouched by any special effects: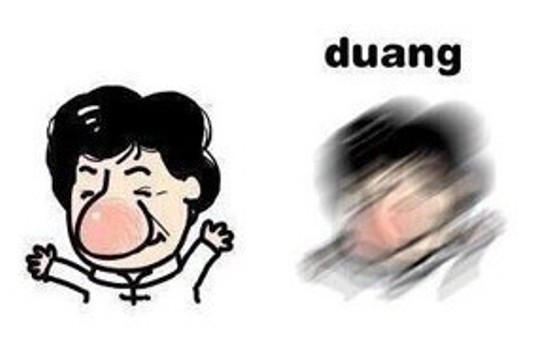 Here's the viral video that makes fun of Chan's commercial:
Jackie Chan is an international celebrity who has had other internet memes made about him. It's just surprising to see that this newest meme in China is very similar to the one that Westerners have been enjoying for years.