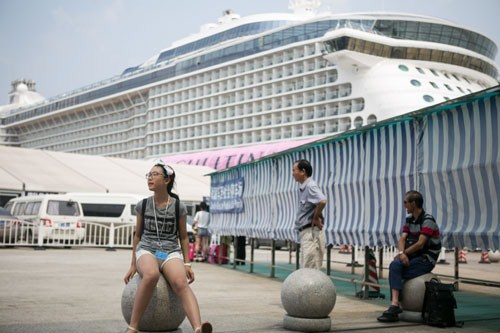 Royal Caribbean, a US cruise company, found out the hard way what happens when you upset Chinese passengers. Some Chinese tourists on board one of the company's cruise liners had to be forcibly removed after they became angry the cruise ship changed its destination over weather concerns.
Some 300 passengers refused to leave the Quantum of the Seas on Monday morning after it docked in Shanghai after a nine-day cruise, requesting compensation. New passengers for the next voyage were forced to wait.
The Royal Caribbean cruise liner was originally scheduled to dock in three Japanese cities, but the route was changed to three South Korean cities over weather concerns from Typhoon Gomi. Negotiations over compensation for the altered route between passengers and Royal Caribbean continued at a nearby hotel. For its part, Royal Caribbean said it provided passengers with free lobster dinners and WiFi to make up for the change.
Tourism officials have said a new recommended contract on tours issued by Shanghai tourism authorities will be introduced this month following a number of disputes concerning changes of itinerary on cruise ships.
This past April, another 300 passengers refused to disembark from the Chinese cruise liner Henna after an unsatisfactory voyage marred with weather delays and destination changes. HNA Cruises agreed to pay 1,800 passengers RMB 200 (around $32) each in compensation.
Back in 2013, online travel agency Ctrip agreed to compensate to over 2,000 passengers RMB 493 ($80) for an ill-fated Costa cruise to South Korea that cancelled a stop at Jeju Island due to fog as well as well as rough seas. Some 100 passengers refused to leave the ship upon docking at 8am, but finally left at 6pm after being offered compensation and an apology.
Cruise liners have become immensely popular with Chinese tourists of late. The industry reported a five percent growth rate in the first half of 2015 over the same period last year, boasting over 380,000 passengers. According to figures from the China Cruise and Yacht Industry Association, more than 1 million Chinese mainlanders are expected to go on a cruise this year, up from 700,000 last year.
Online travel agency Tongcheng predicts the cruise line industry to contribute RMB 51 billion to the Chinese economy by 2020.