After preparations that shut down most of Beijing and even the surrounding provinces, the parade to commemorate the 70th anniversary of World War II is now over after a successful run.
Online reaction to the parade has been overwhelmingly positive with a majority of Chinese netizens expressing their admiration and love for their country and the various units of its national armed forces that were on display during the parade. But along with this praise comes a number of posts and comments that show a broader – and somewhat different – perspective.
At around 10:30am, this picture was sent out along with the caption "Here's a picture to share (with everyone)":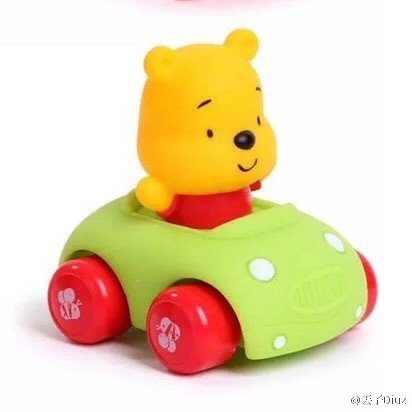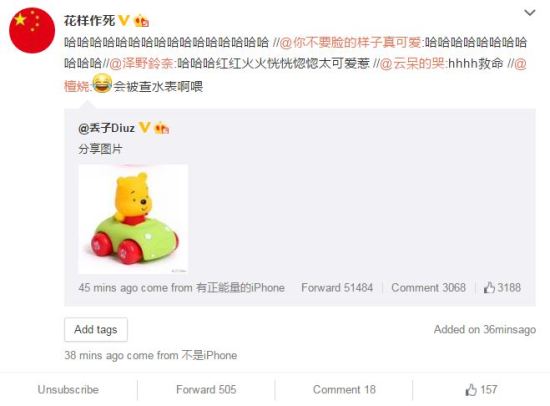 A picture of a Winnie the Pooh toy car doesn't seem to signify anything until you take into account that minutes prior to that post, President Xi Jinping had inspected the troops from his car, like this: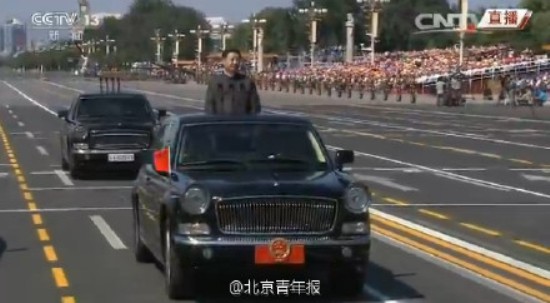 This post racked up about 62,000 forwards in a little over an hour. Online responses to this post included: "As I watched, I told my mother and father that the similarity was uncanny." The post has since been deleted from Weibo.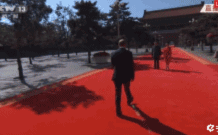 Other posts remarked upon the warm welcome President Xi gave to Russian Prime Minister Vladimir Putin (seen in the GIF above). Xi was seen giving a toothy smile while shaking Putin's hand, something that Xi is rarely seen doing.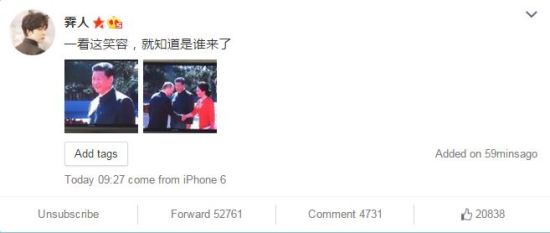 One post (above) showed the GIF of the meeting and commented, "Once you saw that smile, you knew who was coming." Accumulating some 52,000 hits, this post attracted responses like, "Could this be the mythical way [that Xi] spoils the people he loves that has been spoken about in legend?" while another person wrote, "Do you guys still have any attention for us beautiful women?"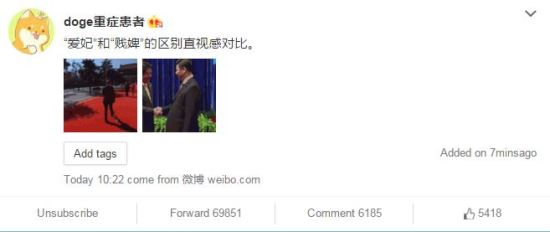 Another post (above) contrasted Xi's meeting with Putin with Xi's famous handshake with Prime Minister Shinzo Abe of Japan (seen below) by saying: "This is the clear, visible difference between what is a 'beloved concubine' and a 'hated slave girl'." Forwarded almost 70,000 times, this post got responses like "So Uncle Xi is also a person who can't hide his feelings," and "(This is) 'You've come' versus 'Why aren't you gone yet?'"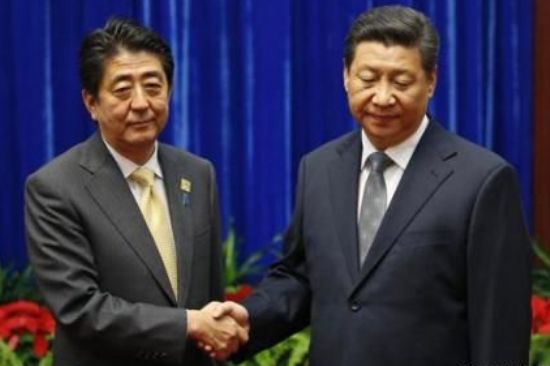 A netizen posted this GIF of CCTV footage of the official viewing platform that showed what appears to be Xi Jinping ignoring former Premier Wen Jiabao, who simply stands facing forward while Xi shakes other people's hands behind him (seen below in stills). This post received some 52,000 hits this morning, but attracted no comments.