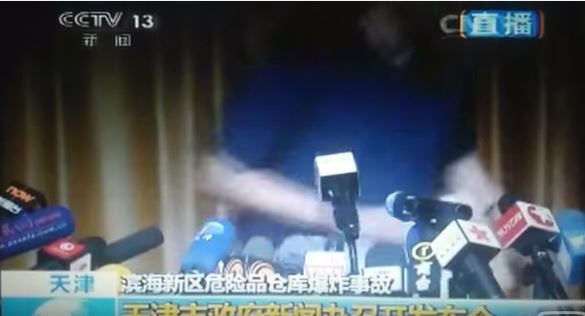 The massive explosion in Tianjin that has killed 50 people so far has brought up a lot of questions, and reporters finally got to ask them during a press conference with a Tianjin municipal official that was broadcast live on CCTV. However, they may not have gotten the answers they wanted.
A government spokesperson told reporters the hazardous air was moving south-west and away from the city, hoping to dispel fears that the air is too toxic to breathe. In the video, reporters are asking him questions and he repeatedly tries to get up to leave. This continues until 1:27 of the video, when a reporter asks why so many residential homes were so close to a storage facility with toxic chemicals.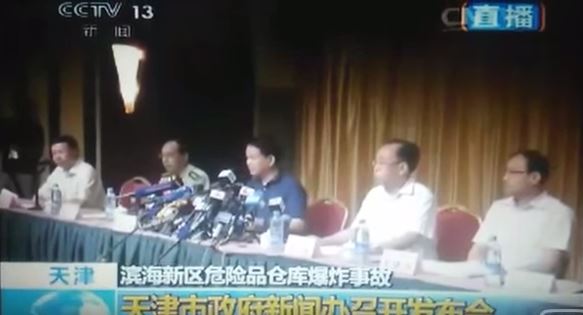 This is a translated transcript:
Reporter: According to regulations, how far should hazardous materials be located from residents? (pause) That is, according to enviromental regulations, how far should contaminated materials be located from residential areas?

Man in blue shirt: There is a predetermined standard…
There is a moment of confusion as no one says anything, and the men giving the press conference look at each other. Then, the broadcast of the press conference is suddenly stopped short, and the viewer sees the CCTV anchor, who is also confused and not prepared. After mentioning that the viewer has been watching a press conference given by the Tianjin municipal authority, the broadcast goes to commercial.
Here's the video of the press conference: