A Shenzhen parent is upset that her child's school promoted a book for her to read that was "scary".
As part of Reading Month, the Sanlian Yongheng School in Longhua New District encouraged its students to pick out their own selections in order to develop their literacy. However, one student simply went too far. The book she selected, The Youth's Handbook of Scientific Exploration, ended up exposing a wealth of knowledge that she wasn't prepared for.
An unnamed parent lashed out at the school for allowing the child to read a book that contained supernatural references. "The school is a place for imparting scientific and cultural knowledge. Why are such books being promoted?" she asked.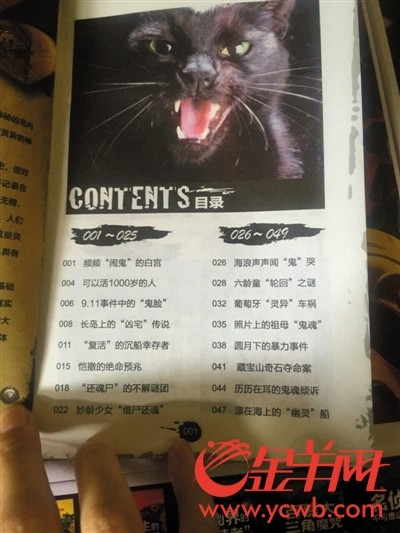 "I didn't think the book was anything special from its title, and didn't think much about it at first," the parent confessed. "However, over the past few nights, my child has been calling out in his dreams while sleeping; she said she saw the 'boogeyman' that was written in the book. She was so scared, she couldn't go back to sleep."
The book is filled with tales of the supernatural and contains story titles like "The Constant Ghost of the White Palace", "The Haunted House of the Isle", "The Reincarnated Youthful Girl", and "The Photo of the Grandmother Ghost". And as pointed out by the parent, the book contains a "terrifying" picture of a black cat with its fangs bared.
"The words in this book have a terrifying effect upon me as an adult — just think what it can do to a minor," said the parent.
Confronted with the accusations of promoting supernatural elements through education, a representative for Sanlian Yongheng School dismissed any wrongdoing, saying that the school's 6th graders have the ability to choose whatever they want to read by themselves.
The representative also said the school has refunded the purchase of The Youth's Handbook of Scientific Exploration.