No matter what the first two rules of Fight Club say, Chinese media are excitedly talking about the opening of a bar that allows ordinary patrons a chance to stand strap on the gloves and take to the boxing ring located in the middle of the establishment.
A boxing-themed bar in Taiyuan, Shanxi celebrated its opening last week by inviting models dressed in bikinis to put on boxing gloves and hit each other.
According to the owner, the boxing ring prominently featured in the bar is a way to give anyone a chance to step into the ring.
""The boxing bar provides people with a way to deal with stress in a fast-paced lifestyle."The boxing bar provides people with a way to deal with stress in a fast-paced lifestyle," said the boss, who sees its use as being therapeutic for the community at large:
Through the creation of this grassroots boxing ring, we can allow white collar workers an opportunity to vent and release their bad moods and pressure.
It appears the boxing bar may have been around since July, and has since changed its promotional strategy.
Earlier reports say a boxing-themed bar opened in Taiyuan, Shanxi on July 10 this year. Although both bars in the old and new media reports are unidentified, they similarly feature a boxing ring with a blue mat with corners marked out with red and blue stripes, while patrons are seen sitting at ringside on a green half-moon lounge seat.
For the July 10 opening day, male combat sport participants from outside China were invited to the Taiyuan boxing bar to fight in competitive matches, as seen in the following gallery:
If these two "opening days" belong to the same boxing-themed bar in Taiyuan, the bikini boxing that occurred this week could signify a radical change in the bar's promotional strategy.
But whichever the case, this Taiyuan bar appears to have no objectives about allowing its fighters to partake in alcoholic beverages. In the photo below, a bikini-attired fighter from the bar's September 7th opening day is seen drinking a carbonated drink from a champagne flute while still wearing a boxing glove (below):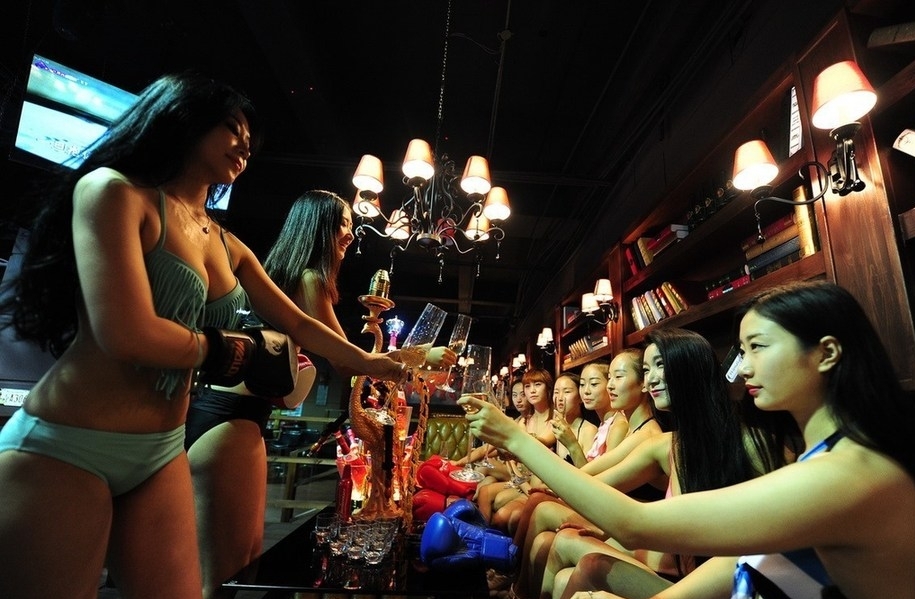 But if this Taiyuan bar doesn't meet your tastes, there are always others that be more suited to you. For example, another Taiyuan restaurant features a row of scantily-dressed mannequins behind a row of urinals in the men's washroom.