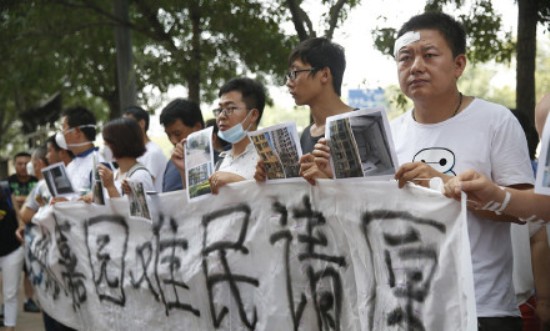 As the number of fatalities from last week's explosion in Tianjin continues to rise – with the count now at 112 dead and 95 missing – so too does the demand for compensation as property owners petition the government to buy back their homes that were damaged in the blast.
Local residents say they were not aware of the dangerous chemicals that were stored so close to their homes.
Having bought an apartment in Tianjin's Binhai port area in 2013, 27 year-old Liu Xuerui is one of many local residents who don't want to live there anymore. "We thought there were just piles of containers and parking lots for imported cars. Nobody told us that there were chemicals, or I would never have chosen to live here."Nobody told us that there were chemicals, or I would never have chosen to live here," said Liu.
Zhang Lu, another property owner caught in the blast, also wants answers. "We deserve an explanation over why the warehouse was built near my home without my knowledge," said Zhang.
But it isn't just answers that local resident want from the government in the wake of last week's explosion. For the second day in a row, property owners held a demonstration to petition the government to purchase their damaged homes.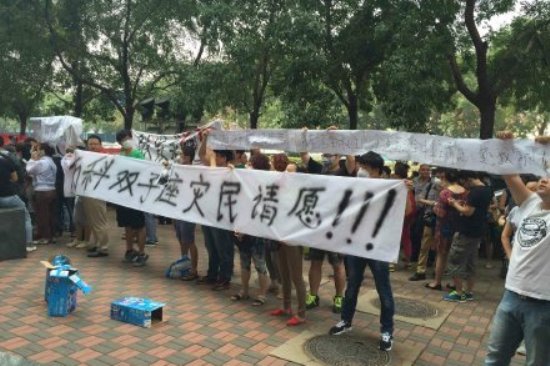 Protestors demonstrated outside the Tianjin hotel where government officials have been holding press conferences, carrying banners and holding up pictures of property damage and personal injuries. Holding signs saying things like, "Binhai property owners love the Chinese Communist Party and trust the government", the protestors say they are afraid for their personal safety and are concerned of poisonous gases entering their homes.
The second day of protests from the property owners also saw an increased police presence. While yesterday's protest was met by four to five police officers, today's protest saw the presence of SWAT police and armed police officers.
Although residents say they weren't informed of the presence of volatile chemicals, a public notice on the Binhai New Area's website on September 10 last year indicated that the company had changed the purpose of its warehouses to allow for the temporary storage of dangerous chemicals during export and import procedures.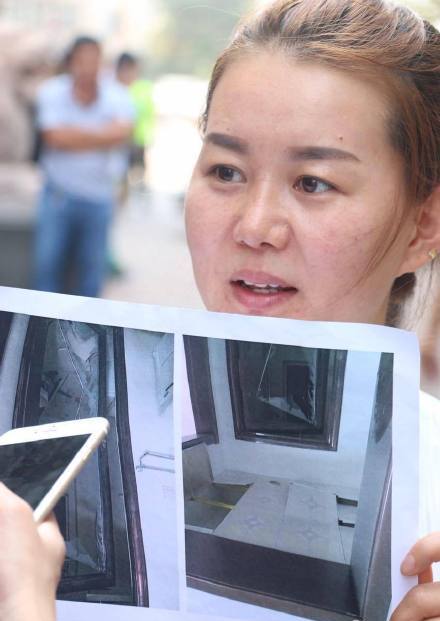 Southern Metropolis Daily reported that Ruihai International Logistics, the company operating the warehouse where the blast occurred, had stored 700 tons of sodium cyanide on its premises when the explosion happened. The report said Ruihai is only permitted to store ten tons of sodium cyanide on its premises.
The Tianjin head of propaganda said he is confident the government can satisfy the concerns of residents, but Liu and Zhang say they are not moving back to their damaged homes. "Whether the warehouses are relocated or not, or however the government offers to help fix the damage, I am not going back. I only want to put the nightmare behind me," Zhang said.
Meanwhile, insurance claims stemming from the Tianjin explosion are expected to range between five to ten million yuan ($780 million to 1.56 billion). A Saturday estimate said some 17,000 households, 1,700 enterprises and 675 shops in Tianjin had been affected by the explosions. Here are more pictures of the demonstrations: