Two convenience stores in Beijing and Hangzhou did away with their cashiers and left it to their customers' to pay for their goods (or not) in an "honesty test" held to promote "Internet Credit Day" on June 6. However, the experiment ended badly when some customers, as might have been expected, took their goods out of the store without paying.
The one-day trial was held in a Vanguard convenience store in Hangzhou and an ampm store in the Jianguomen District of Beijing. With signs promoting the store as "completely unstaffed", customers were instructed to pay for their purchases with Alipay after scanning a QR code, or by leaving cash in a box at the counter.
Although a representative for Sesame Credit, which sponsored the experiment, touted a cashier-less payment system as being quicker, it doesn't make much financial sense because many people can't be trusted to pay. The Hangzhou store is reported to have received RMB 13,700 for RMB 16,700 worth of products, which is about an 82 percent success rate.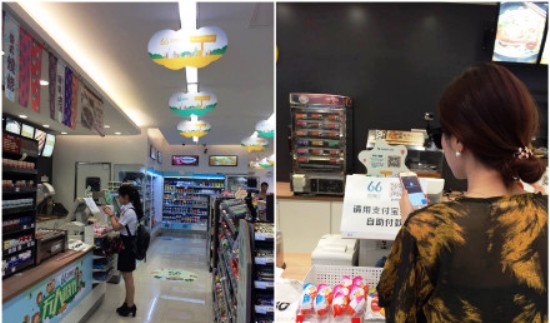 People were seen on camera taking advantage of the policy in various ways. Three women were seen taking many expensive items from the store, while a man took several expensive cigarettes and alcohol products after he had put a ten yuan bill on the counter.
Store workers were reported to be completely helpless as they watched. "Some people filled up bags with store items, then turned around and left," they said.
The Sesame Credit representative said none of the people that had taken store items without proper payment would be investigated or held accountable for their actions. The representative also called the experiement a success, saying that the people who stole were only "minor examples".
Many netizens were skeptical of making the change from a cash-based society to one based on credit. One person said, "This kind of experiment can only end in failure. People these days aren't lacking in money, but in morals," while another said, "This is very worrying. How can this news be any good? Lacking morals and virtues, our culture is just about lost."
Stores without cashiers can already be found in China throughout Jilin and Shandong Provinces.