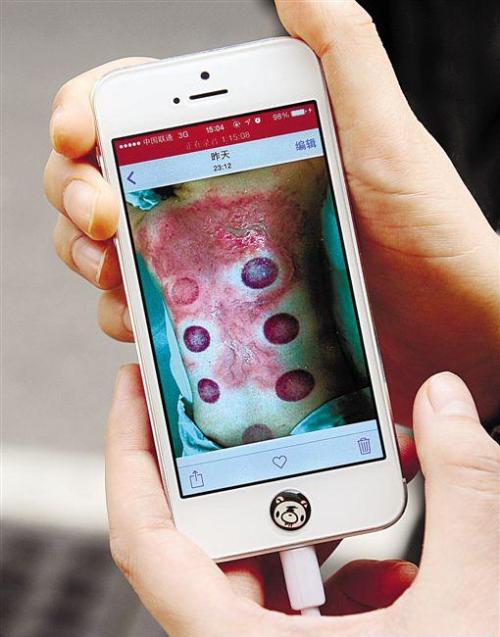 In the grand tradition of a "girl's night out", Shenzhen resident Miss Jie and her friend went to Guangzhou for dinner and a spa massage treatment on February 8. However, things didn't go according to plan when a fire broke out on Jie's back.
Miss Jie was undergoing the Chinese practice of firecupping, something of a cross between massage and moxibustion. When undergoing firecupping, the client lies face down with their back exposed, much like when getting a massage. However, instead of manually applying pressure to the back using hands or other instruments, firecupping is used.
A combustible item is placed inside a small, glass jar, and is then ignited and extinguished in quick succession before being placed upon the client's back. Because the remnants of the fire is still absorbing oxygen within the jar (or cup), it creates a suction when coming into contact with the victim's skin. Firecupping is thought to provide therapeutic benefits to its users.
READ: Man Goes For A Massage In Shenzhen, Leaves Paralyzed
In Miss Jie's case, her firecupping treatment was using alcohol as a fuel instead of paper, a more commonly used item. Miss Jie said she had been undergoing the treatment for 20 minutes when she suddenly felt something cold on her back. That "cold feeling" was alcohol coming into contact with her skin, which was then ignited by an open flame. Jie's companion, Miss Chen, said the flames on Jie's back reached ten centimeters tall.
The hotel at which Jie had the firecupping service performed has accepted responsibility for the accident and has agreed to pay Jie's medical bills. General Operations Manager of the Guangzhou Shuishanfang Hotel Miss Wu admitted that the technician providing the firecupping used too much alcohol. However, Wu also added that the accident was also due to a deficiency in the cupping jar, causing it to crack and leak alcohol over Miss Jie's back.
READ: Setting Yourself On Fire? It's a Form of Traditional Chinese Medicine
Wu wouldn't admit to the press that the technician was improperly qualified, saying the all technicians are internally trained. However, Wu did say that they have voluntarily suspended their company's own certification for the time being.
Massages, firecupping, and other similar services are not expensive in China. At the Shuishanfang Hotel, Jie paid for a package deal that featured backcupping, foot massage and other services for just RMB 68.
Related: