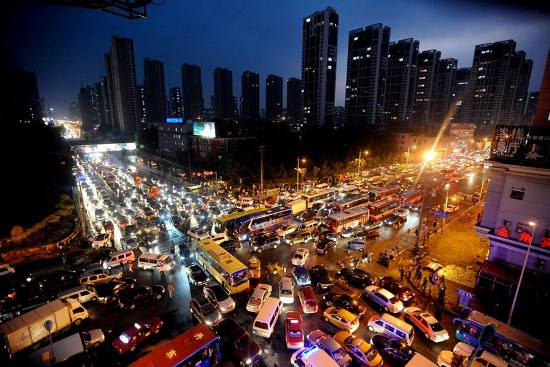 Beijing's mayor recently said that addressing overpopulation is his city's top priority. Perhaps, then, the mayor could turn away prospective Beijingers by informing them the capital has been named as having the worst commute in China.
A Baidu database called "My 2014 Work Commute" compiled the answers of over three million users to discover Beijing topped the list for longest commute in terms of both time and distance. The average Beijing commute lasts 52 minutes and is 19.2 kilometers long, more than three times that of the average commute of 50th place Shantou.
READ: Surprised? Beijing Crowned Most Congested City In China
Other first-tier cities rounded out the top names on the list. The average commute in Shanghai is 51 minutes and 18.8 kilometers long, putting it second. However, Shanghai also has the distinction of being the city with the most number of commuters who live outside of its territory, as many come from Suzhou, Hangzhou, and Zhoushan.
Guangzhou is another first-tier city near the top of the list of long commutes, averaging a time of 46 minutes and a distance of 15.2 kilometers. Just like Shanghai, Guangzhou has many commuters from Foshan and Dongguan.
So what does Beijing have to distinguish its commute from other cities? As the database shows, Beijing is home to some of the worst commutes in the country.
Commuters are trekking in to Beijing from Tongzhou, Changping, and Yanjiao from Hebei, a distance of over 50 kilometers. This also makes the commute from Tongzhou and Yanjiao to Guomao (CBD), Chaoyang District as the most congested route in the country.
How does your commute compare? The average commute in China is 9.2 kilometers and takes 28 minutes to complete.
Related:
Photo: qiqiang