Vicious as a tigress can be, goes the old Chinese saying, she never eats her own cubs—even the fiercest of beasts would pity the fool that did.
And now, writes Information Times yesterday, a 3-month-old baby has been killed by his young mother in Guangzhou's Luogang district during a recent quarrel with her boyfriend.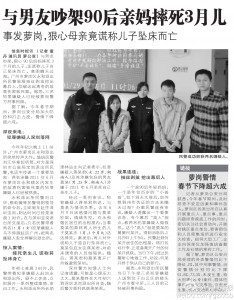 The sad tale dates back to June last year, when 22-year-old Jiang and the baby's 25-year old father, Mo, had recently relocated from Hunan Province to Yonghe borough in Luogang district. Relationship problems led to an intense argument on June 9, one which ended when an infuriated Jiang took their 3-month-old son and throwing him onto the floor.
The couple then tried to cover up the murder by claiming that their son died after falling off the bed, and moved to Shenzhen shortly after.
On January 6 this year, government sources tipped off Information Times reporters that Mo, no longer able to cope with the guilt, had turned himself in to police in Shenzhen, confessing to his role in covering up the murder. Jiang was arrested and the two were transfered to custody of Luogang police the same night.
But, the story is not over: a third key suspect has appeared. He, Mo's uncle, quickly started packing his things after hearing of the arrests and was intercepted by Guangzhou police as he prepared to flee the city. Following a series of interrogations, He confessed that it was he who instructed the young couple on what to say to avoid responsibility for their son's death, making him an accomplice to the murder. The trio have been detained and now face criminal charges.