Busy road in Shenzhen's popular Huaqiangbei area to close for 3 years
Posted: 01/29/2013 1:36 pm
The major trunk road in Shenzhen's Huaqiangbei Area, one of the busiest areas in the city, will close for 3 years after the Spring Festival holiday for construction of Metro lines, Shenzhen Daily reports.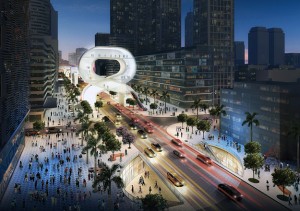 The city's railway construction office said that on February 25 a section of Huaqiangbei Road, between Shennan Boulevard and Hongli Road, would close.
The paper continues:
Pedestrian sidewalks on each side of the road will remain open to provide access to businesses in the area and hopefully limit the affects of construction on commerce.
The work, which is part of the city's Metro line 7 project, will cause relocations, land requisitions, pipeline rerouting and traffic relief efforts in the area which lies in Futian District.
Meanwhile, residents and business owners in the area said property owners should lower their rents and the government should reduce taxes or offer subsidies during the construction period, because their businesses' incomes will drop during the next three years.
Is Huaqiangbei, which is mostly known as the city's high-tech centre, an important part of your life? If so, what do you think of this?