Guangzhou students protest university gender quotas
Posted: 09/12/2012 1:00 pm
As Chinese students are all too familiar with, the annual national university entrance exams, known as "gaokao", are intense. Following months of preparation, the fate of their academic futures comes down to two days of examinations. Although struggling with fierce competition from other students is difficult enough, students are now facing another obstacle that no amount of studying can overcome: university gender quotas.
A recent story published in the China Daily revealed that Chinese universities are increasingly relying on gender quotas to determine acceptance. At the Beijing Foreign Studies University for example, entry to the German language department requires an admission score of 598 for men, yet women require a substantially higher score of 639. At the prestigious Renmin University, the minimum admission score for four different language majors is currently set at 601 for men, but women require a score of 614.
This issue is not, however, unique to the north. According to a story in Radio Free Asia, the same issue is occurring in Guangzhou and, understandably, female students are none too impressed.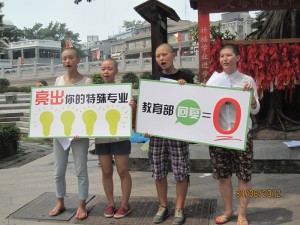 Guangzhou student, Ouyang Le, was denied a place at a prominent International Relations department on the basis of gender quotas, despite an exceptional score on her national exams. Rather than accept the decision, Ouyang turned to Weibo to voice her frustration. In doing so, a number of female students joined with her and staged a protest of a policy they see as nothing other than discriminatory. The women shaved their heads which, according to Ouyang, is synonymous in Cantonese with "empty-handed and impoverished", and proceeded to read a letter addressed to the Beijing Education Ministry.
According to Ouyang, and in response, the ministry claimed that certain schools and institutes were allowed to have differing admission scores for men and women applying to "special professions" on the basis of "national interests". The professions considered "special", as well as the national interests in question, remain unknown.
Not everyone views the gender quotas as discriminatory. According to Yuan Zhenguo, president of the National Institute of Education Sciences, the policy "reflects the market demand" and argues that some jobs simply need men instead of women.
China has signed and ratified the United Nations Convention on the Elimination of All Forms of Discrimination against Women, which includes ensuring women's equal access to, and equal opportunities in, education and employment. Notwithstanding, women in China obviously continue to face major barriers with regard to education and labour equality. According to Guangzhou human rights lawyer, Tang Jingling, although the law continues to evolve, further cultural change must occur: "The system itself is synonymous with power, but it can be changed through culture", Tang said. "Only a system that concerns itself with justice will be able to erase the last traces of this culture of discrimination."