Nigerians call for a consulate in Guangzhou to "eliminate harassment"
Posted: 06/16/2012 7:00 am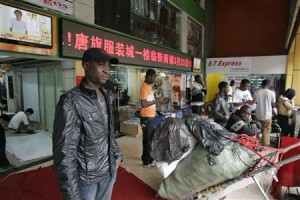 It's believed Guangzhou has some 20,000 African residents, the majority of whom hail from Nigeria.
Life isn't always easy for them in Guangzhou, which has been nicknamed "Chocolate City".  There has even been some friction between Nigerians and the local police department, particularly after a Nigerian man allegedly jumped to his death after being cornered by police in 2009.
Still, people from Nigeria are flooding into Guangzhou because of its opportunities.  And with so many here, wouldn't it make sense for Nigeria to have a consulate in the city?  Many Nigerians think so.
Right now, Nigerians who need assistance ranging from consular protection to help with procuring residency papers have to go through the embassy in Beijing.  That's a three hour flight north, and doesn't make a lot of sense.
One Nigerian businessman in Guangzhou, Festus Uzoma Mbisiogu, makes a strong case for a southern-based consulate:
"Most times, our people here face challenges on visa issuance because there is no consular office to educate them on how to go about it. I strongly believe that if Nigerian authorities see the need to establish a consular office in this area, Guangzhou authorities may adjust their policy on issuance of visa and they will  relate with visa applicants in times of emergency. This measure, if taken, will also reduce the problems of illegal immigrants, as most of the problems of illegal migrants arise from the absence of a consular office.

"Too many Nigerians find it difficult to process their visas or office documents because many are referred to Beijing or Nigeria for ratification. This measure often exposed Nigerians to untold hardship."
The article in The Nation also points out that hundreds of Nigerians are believed to be languishing in prisons in China for minor offenses, possibly partially because of a lack of consular assistance.
To date, Nigeria has no plans to open a Guangzhou consulate.  In fact, as far as we know, no African countries are represented in the City of Five Rams.