Calls for Evergrande's Lippi to take over the national team
Posted: 11/12/2013 11:44 am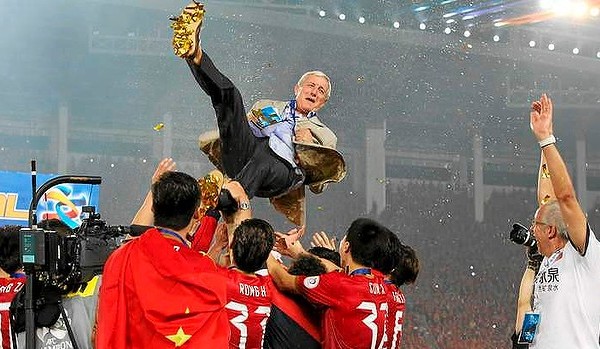 Following Guangzhou Evergrande's historic victory over FC Seoul in the final of the Asian Champions League on Saturday, there has been a growing number in China calling on Marcello Lippi to "take the reins of the national team," according to a report by Reuters yesterday.
Such a move, however, seems unlikely. For one, Lippi is already an relatively old manager at 65. Does he really have the years left in him as a coach to take on yet another team? And what would that mean for his commitment to Evergrande? It seems to raise more questions than answers.
Surely Lippi will want to seal his legacy at Evergrande and go on to record many more wins. I think it's safe to say that there are no such cards on the table unless we hear otherwise from Lippi himself.
Nonetheless, it goes to show just how much trust the Chinese people now place in the Italian hero, and I wouldn't be surprised if he is approached privately with such an offer at some future time (if he has not been already).
Of the victory on Saturday, the first for a Chinese club in 23 years, Lippi said after the match at a press conference:
"An important international trophy like this one is certainly a prize for all Chinese football. The team has grown a lot… and many of those players are in the national team. The hope is that this is also growth for Chinese football."
Zhang Jilong, AFC senior vice-president, was quoted by Xinhua as saying:
"The triumph of Evergrande in the Asian Football Confederation shows there's hope for China's soccer. The big investment from the club contributed a lot to China's soccer in recent years, but we can't say it's the only pattern of development for Chinese soccer."
Zhou Sui'an, Evergrande's 1994 league season coach who saw them place second, told China Daily on Sunday:
Guangzhou Evergrande's success comes from a professional operation, including a scientific training system, after bringing in a coaching squad from Italy and a series of incentives to boost players' motivation. Other Chinese clubs cannot buy big stars as Evergrande did in the past few years, but they can follow the professional management style.
Clearly this is not the last we will be hearing of Lippi, the toast of China.