Posted: 08/19/2013 10:00 am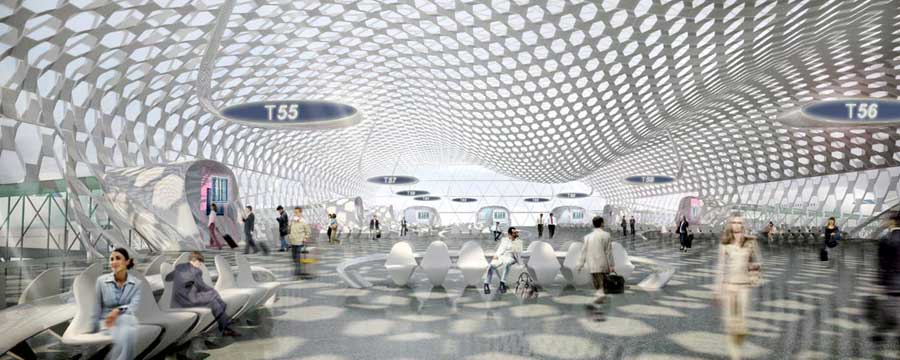 Shenzhen International Airport carried out a "relocation drill" Friday in preparation for the opening of its new Terminal C on November 14, the biggest upgrade to the airport since its opening 22 years ago.
The new terminal will be nearly triple the size of current terminals A and B combined, and will have double the number of counters. Fifty-eight new boarding gates will also be included, covering a total area of 450,000 square metres. By comparison, Heathrow's main Terminal 5 building covers just 300,000 square metres.
"The new three-level Terminal C was designed by Italian-based firm Fuksas Architects, and incorporates a patterned double skin canopy of steel and glass that allows patterned light into the building, reduces energy consumption by shielding the space from excessive solar heat and also allows mechanical systems to be hidden," Shenzhen Daily said in a report earlier this week.
The Daily added: "The terminal has a large check-in building with a wing-like roof on one side of a cross structure. The grand departure hall resembles a large manta ray enveloping the passengers. The hall will be bright with light diffused through the double skin and contains information desks, a car rental area, and airline check-in counters."
Forty-five million passengers are expected to pass through the airport each year by 2020, up from just 29 million in 2012.
The new terminal will be welcomed by Shenzhen citizens and travellers who regularly pass through the major international transport hub. China is a country infamous for its flight delays, with only 18.3 percent of flights departing from Beijing Capital International Airport leaving on time in June, according to statistics.
Meanwhile, a report this week showed that air service complaints in Shenzhen are on the rise, with many passengers still filing official complaints over flight delays and cancellations.
Earlier this year, The Nanfang picked up a report on a series of bomb hoaxes that affected Shenzhen airport. This week, the man charged with the false threats, identified as Wang Hongliang, 26, from Inner Mongolia, has been standing trial at Bao'an People's Court.
Last week, a former Yunnan Province official was sentenced to six months in prison for his public display of anger at an airport February.
Photo credit: e-architect.co.uk