Posted: 02/25/2011 8:40 am
PJ Harvey – "Let England Shake" (Vagrant/Island Def Jam)

4.2 out of 5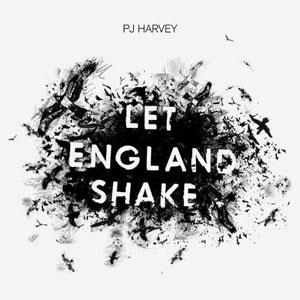 A friend of mine asked me the other day what record I was reviewing this week. When I told him PJ Harvey's Let England Shake, he replied: "PJ Harvey; she's still around?" A fair question I suppose. Other than the 2009 John Parish collaboration, A Woman a Man Walked By, in which Parish wrote all of the music and played most of the instruments, Harvey hasn't released any new material since 2007's White Chalk. Following rumours of retirement, I began to wonder if I would ever again hear that snarl and deft songwriting that I have loved so much since Harvey's 1992 debut, Dry. I'm therefore happy to report that not only is Harvey back, she's back in fine form.
Recorded in a converted church overlooking the Dorset coast of Southwestern England, Let England Shake is simultaneously the most beautiful and raucous album Harvey has produced since 2000's Stories from the City, Stories from the Sea. As the title not so subtly suggests (subtlety has never been Harvey's strong suit), there is a political current running throughout the record. Often literal, often literary allusion, Harvey has crafted a record as lovely as the English countryside and as tumultuous as the country's rich history.
The record opens with Let England Shake, a mid-tempo, jazz infused number. Despite the boppy, up-beat nature of the instrumentation, the opening lyrics are anything but: "The West's asleep. Let England shake, weighted down with silent dead. I fear our blood won't rise again." Yikes. And just in case you think the opening track is a one-off, Harvey clarifies the record's intention on the following track, The Last Living Rose. The song opens with nothing but Harvey's electric guitar and bass drum before swelling into a beautiful tenor sax solo: "Goddamn Europeans! Take me back to beautiful England. And the grey damp filthiness of ages." This essentially sets the tone for the record.
Let England Shake is both a damning of England's militaristic past while expressing uncertainty of its future. Harvey clearly wants to agitate the agitators into agitating what was once a mighty empire. As a result, the lyrics are often graphic and harsh, taking no prisoners. This is no more apparent than on first single, The Words That Maketh Murder, where Harvey spews disturbing imagery: "I've seen soldiers fall like lumps of meat, blown and shot out beyond belief. Arms and legs were in the trees." Before you can catch your breath, she coyly drops the stunning piano and slide guitar infused coda, borrowing Eddie Cochran's popular refrain: "What if I take my problem to the United Nations?"
Politics aside, Let England Shake aptly demonstrates Harvey's ability to write gorgeous melodies juxtaposed with razor sharp lyrics. Experiencing Let England Shake is like someone telling you they love you and then immediately slapping you across the face: you're too busy processing the former to contemplate the sheer force of the latter. As a result, Let England Shake requires a few listens to even scratch the surface.
Aside from the audacity of the lyrical content, what I enjoyed most about Let England Shake is what remains the strongest element in Harvey's arsenal: her voice. Though mostly sung in her upper-register, the versatility she employs here is staggering. Whether being pretty (Hanging In The Wire), vicious (Bitter Branches), or outright angelic (On Battleship Hill), Harvey's vocals sit perfectly in the mix, open to all of the praise and scrutiny they have always garnered. This is also a credit to the producers (John Parish, PJ Harvey, Flood, and Mick Harvey), who ensure that regardless of the tone Harvey takes vocally, the lyrical punch doesn't get lost in the mix. My only gripe is Written On The Forehead in which Harvey's vocals are unnecessary processed and take away from what is otherwise an engaging track.
Though an unabashedly English record, one does not need to be English to appreciate Let England Shake. In the hands of a lesser songwriter, perhaps that would have been the case. Harvey however is too good and too socially aware to let the narrative get away from the music. As a result, she has crafted a triumphant return and given us a record that can be enjoyed regardless of what side of the Atlantic you might be listening from.
Read previous Spin Doctor reviews here