Woman Beaten to Death at McDonald's for Refusing to Give Her Phone Number [GRAPHIC, UPDATED]
Posted: 05/30/2014 9:27 pm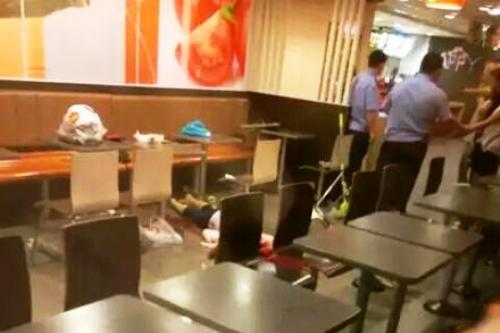 [This story contains violent and graphic images that may offend some readers]
UPDATE: Several of the details provided here are out of date, and have been compiled in another story, "McDonald's Cult Leader Gets TV Interview, More Details of Deadly Attack Emerge"]
This is a terrible story, and does not end well.
Miss Wu has out having dinner at McDonald's on May 28 in Zhaoyuan, Shandong Province.
Mr Zhang was also at that McDonald's. Zhang was there having dinner with his friends, and upon seeing Wu, Zhang asked her for her phone number. Wu refused, and perhaps because he had lost face in front of his friends, Zhang may not have reacted well to this rejection.
An argument broke out. Then, a physical dispute. Then, all of Zhang's friends joined in. They beat her, violently. As described by a Weibo user named @无主蜜桃 who was an eyewitness, Zhang and his friends kicked her in the head when Wu was lying on the ground. Then, they used an iron bar to strike her head. They continued until the iron bar broke.
Emergency responders confirmed that Wu died at the scene. Except for this very brief and violent conflict, Wu and Zhang were total strangers.
The Weibo eyewitness describes this incident occurring from 9:10pm to 9:30pm. The McDonald's is located across the street from a local police station.
No one was reported to have tried to help the victim.
Here is some live video at the scene, but it is very shaky and does not show many details. However, it does align with what a number of bystanders said they saw.
UPDATE 11:52am May 31, 2014. The People's Daily Online has a very different take on this story, reporting the six people involved in the attack as all part of an "evil cult" who were trying to enlist a new member.
Of the people arrested, one is still a minor and can't be charged as an adult. The rest will be charged with intentional homicide.
CCTV reports that the attackers had warned spectators to refrain from intervening by saying, "We'll kill anyone who gets involved!" as well as saying horrible things to the victim like "[once I kill you,] you'll never come back in the next life".