A Different Kind of Nostalgia Served Up at Dongguan's Little India
Posted: 04/17/2014 11:14 am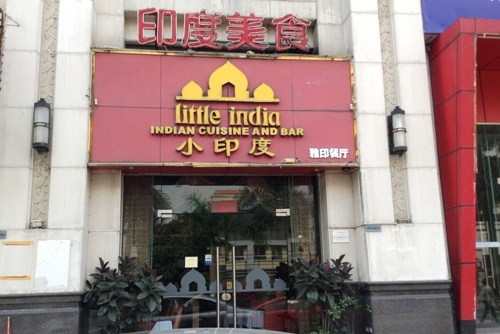 At the bottom of Bar Street squashed between a bank and a nightclub with a faded sign is Dongguan's only Indian restaurant, Little India.
Inside, the restaurant looks much more pleasant. The entrance is draped with bronze curtains, the walls are covered in gold embroidered wallpaper, and the tables are set with fine burgundy cloth. In the background there is traditional music playing.
My visit was reminiscent of the Indian restaurants I used to visit back in the UK. Sitting in Little India reminded me of nervous first dates and boozy nights with friends. One of the last places I would have expected to feel nostalgia for the UK is at Indian restaurant in Dongguan.
While looking at the menu, we were served papadums with mango chutney and mint, making us even hungrier to hurry up and order our meal. The menu is a mix between exotic dishes for those looking to try something new, and more familiar dishes for those looking to play it safe.
The menu also has a variety of lassi drinks. Little India's mango lassi is one of the smoothest and fruitiest drinks to be found around town. Along with fruit drinks there is a well-stocked list of beers including Kingfisher, Heineken and Corona.
Shortly after ordering, the chicken pakora arrived piping hot. The batter was soft and the chicken was tender, while the initial spiciness gave way to a fragrant aftertaste.
When the main dishes arrived I became slightly concerned. The lamb rogan josh looked fatty and oily. The saag chicken arrived covered in so much spinach that it made me worry it would be too sickly.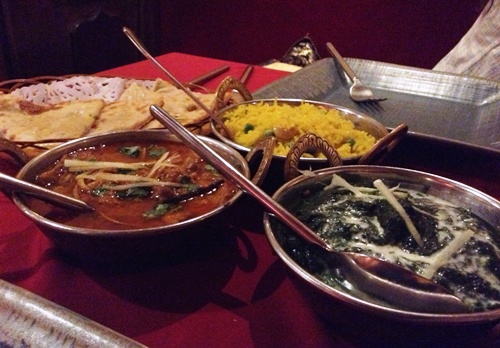 The curries, however, tasted much better than they looked. The lamb was as tender as the chicken pakora, and although the sauce was overly oily it was still very aromatic. Meanwhile, the saag chicken was much lighter than expected.
The aloo paratha, unleavened dough stuffed with spices and potato, was perhaps plainer than hoped for but I still enthusiastically used it to soak up the lamb dish. The remaining curry got mixed in with the mutter pullao, a sweet rice dish with green peas. Although the rice was tasty, the portion was small, and we had to order more.
At the end of the meal the bill came. At 235RMB, it is not particularly cheap, but you can certainly pay a lot more for dinner on Bar Street.
I may have eaten better curries before and I am sure I will again, but Little India is worth trying for those missing their favorite Indian restaurants or looking to try something new.
For more details on Little India Restaurant, please see our listing in the Nanfang directory.
Pictures: Edward O'Neill