Boteco Brazilian a Dongguan delight
Posted: 11/19/2013 2:14 pm
When I think of a country I often think of food. When I think of Italy I think spaghetti. When I think of Mexico I think burritos. When I think of Japan I think sushi.
However, when I used to think of Brazil, nothing came to mind. I could tell you all about their footballers but I had no idea what sort of food Brazilians liked to eat. So when I heard about Boteco Brazilian restaurant I was very much intrigued.
Boteco is located on the road that leads out of the west gate of Dongcheng Zhongxin. As well as a restaurant they also have a delivery service. In fact, my first experience of Boteco was through their delivery service and it was more than a year before I found the actual restaurant.
The restaurant is modestly furnished with wooden chairs and white coffee tables. The decorations are slightly unusual but charming. At the entrance is a large statue of a moustached cowboy, while within there is a large painting of the Brazilian flag as well as more statues.  Outside is a small seating area. There is not much of a view to enjoy but it is pleasant to sit out there on cool evenings. I spoke to a member of staff who told me that they planned to redecorate the restaurant in the coming months.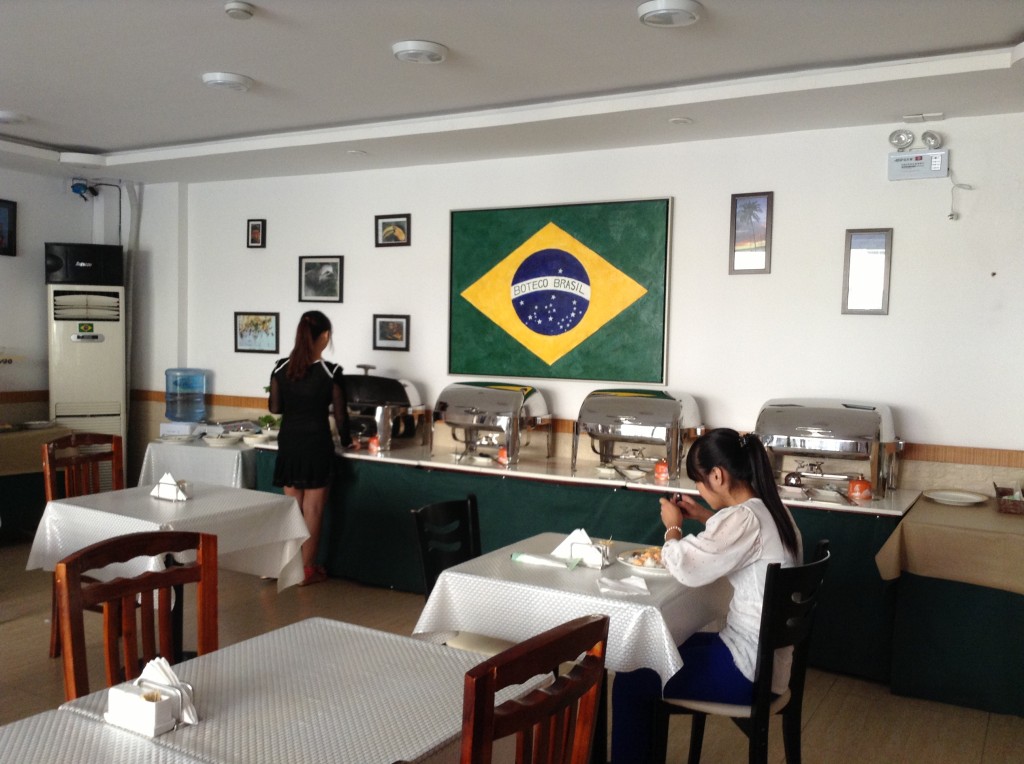 Most of the staff are Chinese but they seem very much at ease with foreign customers and can be heard conversing in both English and Portuguese. Ordering is straightforward and they have no problems taking any special instructions you may have for your food.
Their menu is so large that it can be overwhelming. They have over two hundred dishes to choose from, which includes an extensive range of salads, sandwiches, pies, hot dogs, burgers and much more. Generally, the dishes look appetizing but there are some that I am less than eager to try, such as the chocolate and cheese burger, which sounds like a dish concocted by a child let loose in the kitchen.
Despite the choice on offer, I must confess that I rarely order anything other than the chicken burger and Brazilian pies. The chicken burger comes in small and regular but think of that more as regular and large. Filled with chicken, fried egg, cheese, mayonnaise, tomato, lettuce, corn and peas, it is both tasty and addictive. The Brazilian pies are small snacks that are great for sharing. Like everything else on the menu they come in a variety of fillings.
On the occasion that I do try other dishes I am rarely disappointed. The salads are fresh and come in large portions. The sandwiches are soft and full of flavor. It is because I enjoy eating at Boteco so much that I find the next point so frustrating.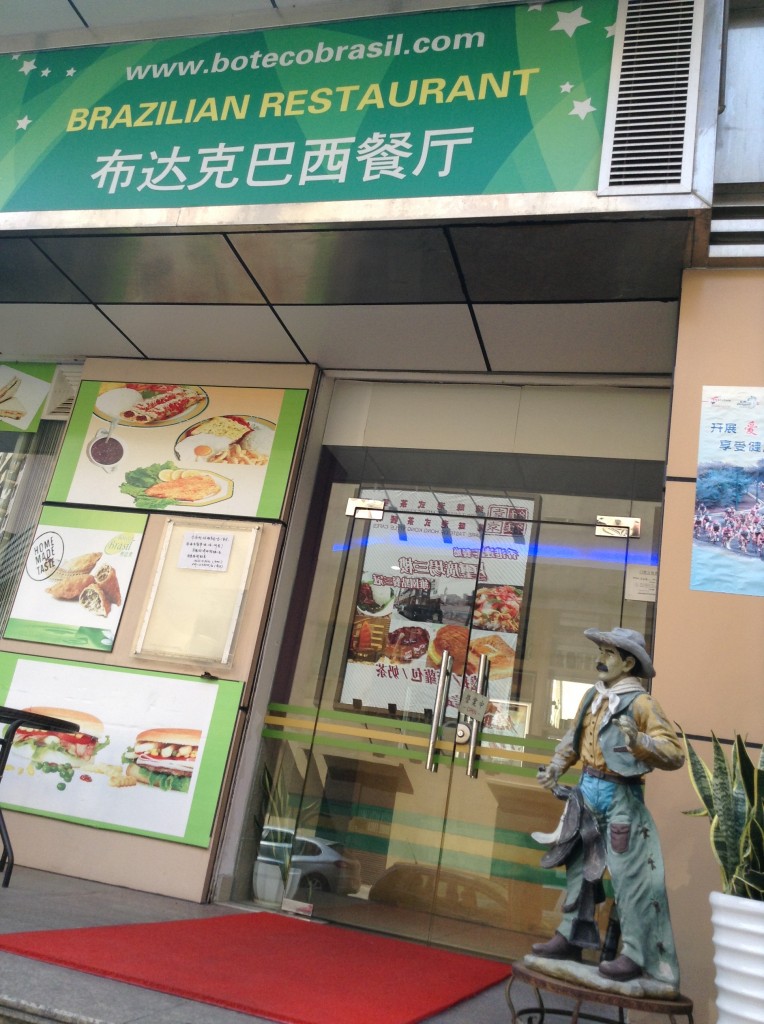 There have been times when I have called Boteco the day after a particularly boozy night, desperate for some comfort food, only for no one to answer the phone. Other times I have brought a date to the restaurant, only to find that it is closed. I checked their takeaway menu and their website for more information regarding this but found nothing. The member of staff that I spoke to explained that the restaurant is closed every Monday but said that in the near future they plan to be open every day of the week. However, in the meantime, I feel that perhaps they could make more effort to inform their customers.
As mentioned before, the restaurant is located near the west gate of Dongcheng Zhongxin. The road is quiet apart from when students start and finish lessons at the nearby school. The only other business is a gas management office, while across the road is the ghostly albatross that is the City Crown shopping centre. It is these secluded, almost anti-social surroundings, which sometimes deter me from choosing to eat at Boteco, especially in the evening, and especially at the weekend.
A majority of Dongguan's Brazilians do reside in Dongcheng Zhongxin, so from that point of view the location makes sense. However, if the restaurant was in a more visible location then it may well become as popular with Chinese and other foreigners as it is with the Brazilians.
At the bottom of the road, there is another, smaller restaurant that is also called Boteco. If you had never been to Boteco before then it would be easy to mistake this for the Brazilian restaurant but be warned. Inside this restaurant there are no Brazilian pies or mustached cowboys. Instead you will only find tired security guards and giggling waitresses on their break, eating rice and noodles in a dark and dingy space.
This smaller restaurant is in fact the original Boteco, which has since been turned into a Chinese restaurant. It seems strange that the Chinese owners who took over the space never bothered to take down the sign, and even stranger that the owners of Boteco did not insist that they did.
Regardless, the old restaurant shows how far Boteco has already come. If they were to put a as much more care into the running of the business as they do preparing their tasty food then it would not be long before they would be moving again to an even bigger and better location.
Visit here to find out contact details for Boteco Brazilian.