Christmas wishes come true: Watch the right movie, win an iPad 2
Posted: 12/23/2011 11:11 am
Guangzhou's largest cinemas have decided to get with the Christmas spirit, Southern Metropolis Daily (SMD) reports, by trying to get you out to their movies.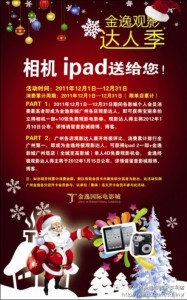 On December 24 and 25, promotional activities will be held in China Film South Cinema Corp. cinemas including Feiyang Cinema in Grandview Mall, Mayflower Cinema near Gongyuanqian Station and the new cinema inside TaiKoo Hui, all which have been decorated with beautiful mistletoes, and movies fans who make it to the UME International Cineplex deep in Haizhu district will also have a chance to enter a draws for tickets and various Christmas gifts.
Warner Jinyi cinemas on Huangpu Dadao and elsewhere throughout the city are also in the game, offering viewers "Christmas Carnival Double" tickets available since December 20 which can be redeemed after Christmas Eve and Christmas Day showings for a small Christmas gift, courtesy of Santa Claus himself.
As if this all wasn't thrilling enough, SMD reports that cinemas are trying so hard to win your business this holiday season that many will make it snow inside the theater. Card-holding Jinyi members can even enter to win prizes including a Polaroid camera and 10 tickets or an iPad 2 and tickets to see a 4D film at Guangzhou's tallest Warner Jinyi Cinema.