Torrential Rainfall Wreaks Havoc on Guangdong, Southern China [UPDATED]
Posted: 05/12/2014 11:56 am
A record-setting rainfall that has hammered Guangdong since May 8 has caused numerous fatalities and service disruptions throughout the province and other parts of China.
5 people are dead and another 5 are injured in a traffic accident on the Beijing-Hongkong highway in which an overnight sleeper bus from Hubei overturned near the exit of the Yishan tunnel near Shaoguan, Guangdong at 3:42am on May 11 (pictured above).
Service for 40 high-speed provincial trains has been suspended as of Sunday at 2pm; affected routes include the Guangzhou-Shenzhen railway, the Guangzhou-Shenzhen-Hong Kong railway, and the railway stemming from Pingguan, Guangxi.
Due to a landslide near Guangming, service of the high-speed rail between Guangzhou-Shenzhen was not restored as of 12pm today, but is reported to be operational now. Caijing reports that provincial high-speed rail service is still not operational as of 1:44pm today as the landslide obstruction has still not been dealt with.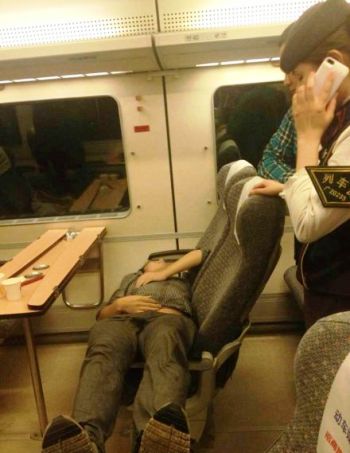 Ticket sales for Provincial train travel were suspended at 4pm on May 11 with the last train having departed at 2:43pm. Passengers onboard train D7037 from Guangzhou to Dongguan reported being stuck in transit, and were delayed by 6 hours. Medical attention was called for 2 passengers with health conditions.
23 students and 12 teachers had to be rescued from flood waters at the Huate School in Tangxia Longjing Garden, Dongguan.
Commuters lend a hand in Shenzhen as the G107 bus near Airport Road in Bao'an District breaks down in traffic.
The heavy rainfall has led to the growth of mushrooms to crop up on Guangzhou city buses.
23 flights were cancelled with some 300 flights delayed at Hong Kong International Airport on Sunday and early Monday morning while Shenzhen Airport canceled at least 48 flights.
Water was discharged from the Shenzhen reservoir at 8pm on May 11 to relieve excess pressure that may have caused flooding in parts of Hong Kong's New Territories.
In other parts of China, the heavy rain is cited as the cause for an earthen wall collapsing onto a factory in Qingdao, Shandong Province. 18 people are dead with three hurt when the wall collapsed onto the temporary housing dormitory for the factory's workers on May 11 at 5:48pm.
The rain is also blamed for the death of a farmer in Hunan Province who was the victim of a rain-triggered landslide, as well as a fatality in Guangxi.
On Sunday, the State Flood Control and Drought Relief Headquarters stated the rain has destroyed 1,400 houses, forcing the evacuation of more than 50,000 residents and flooding 15,000 hectares of cropland throughout Guangdong, Hunan and Jiangxi provinces.
Hunan was reported to have relocated 50,400 people while Guangxi relocated 4,139 people and suffered damages to 945 houses, incurring a total economic loss of approximately 75 million yuan (12 million USD).
China Daily reports the disaster to have affected 1,216,000 people over five provinces, 23 cities, and 77 counties.