Canadian Prime Minister Bans Chinese Reporters From Trip for Bad Behavior
Posted: 08/20/2014 3:45 pm
The Canadian government has banned certain Chinese reporters representing specific news organizations from participating in Prime Minister Stephen Harper's upcoming trip to the country's north.
Spokesperson for the Prime Minister's Office, Jason MacDonald, told QMI Agency that "certain news outlets were no longer welcome" to travel with Prime Minister Stephen Harper, reports the Winnipeg Sun. A source in the government said reporters from the People's Daily and Xinhua news agency will not be able to attend the trip this year.
The decision follows an incident that took place last year during Harper's previous visit to the Canadian north.
On August 23, 2013, a Chinese reporter named Li Xuejiang got into a heated exchange with a member of the Prime Minister's office, and had to be forcibly restrained by the Royal Canadian Mounted Police.
During a press conference at Raglan Mine, Li was upset that his opportunity to ask the Prime Minister a question was revoked and tried to grab a microphone, after which a physical altercation took place.
As reported by the CBC, press conferences run by Prime Minister Harper are tightly scripted events in which questions from reporters are first verified, and then scheduled. Li was going to ask about investments made by foreign entities into Canada's natural resources. "I wanted to clarify the federal government's policy and the regulations toward foreign state-owned company investment," he said.
Li was unrepentant. "Why should I apologize? They should apologize to me for depriving me of my right to ask a question. The Prime Minister's Office shouldn't deprive my right. It's not democratic."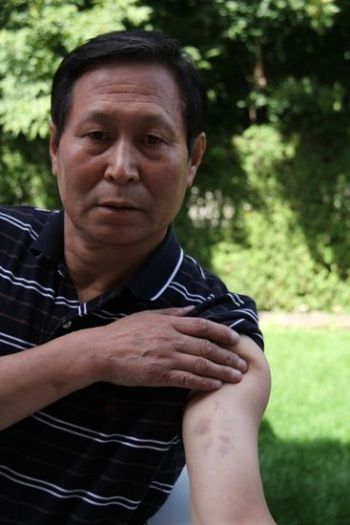 However, Li eventually did apologize, saying that he was "sorry for what happened". All the same, Li continued to complain of unfair treatment. He showed off bruises he claimed he suffered from the altercation, and then wrote on September 8 that Chinese reporters stationed in Canada are discriminated against. Li said that police followed him everywhere, even to the bathroom.
Prime Minister Harper will be making his annual trip to northern Canada from August 20 to 26 and will be accompanied by staff and members of the Press Gallery, an organization of journalists who cover national politics on Parliament Hill.
Despite being identified by the Canadian Press as the Ottawa-based bureau chief for the People's Daily, Li has also been identified by Xinhuanet as a correspondent working for the Global Times and the People's Daily Online.
[h/t @spilledtea]