Cheap flights alert! Jetstar to launch in Hong Kong
Posted: 03/29/2012 4:29 pm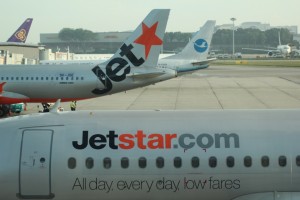 Australian airline Jetstar will become a regular fixture on the tarmac at Hong Kong International Airport (HKIA) as their new low-cost airline takes off from next year.
Qantas, the owner of the budget brand, has teamed up with China Eastern Airlines to launch Jetstar Hong Kong, a new no-frills carrier, serving cities in mainland China, Japan, South Korea and South East Asia.
Following the demise of HK-based Oasis Airlines in 2008, Chek Lap Kok has been left without a permanent low-cost carrier, although it is still served by numerous low-fare airlines.
Jetstar Hong Kong is pledging to slash fares by 50 per cent compared to premium airlines. It will also go head-to-head against Cathay Pacific's regional Dragonair brand and Hong Kong Airlines.
The move provides more choice and competition for travellers and it enables the Jetstar brand to link up passengers to more destinations in more countries through several Asian and Australian hubs.
The move into Hong Kong comes hot off the heels of a new Jetstar Japan airline.
Liu Shaoyong, the chairman of China Eastern, said he hoped Jetstar Hong Kong's low fare approach would enable more people to fly more often for less and to stimulate the Hong Kong tourism industry and the broader economy.
Jetstar Group chief executive Bruce Buchanan said: "This is a unique opportunity for Jetstar to capitalise on the enormous potential of the Greater Chinese market."