[Photos] Explosion at Guangzhou Bus Terminal Injures One
Posted: 06/18/2014 5:56 pm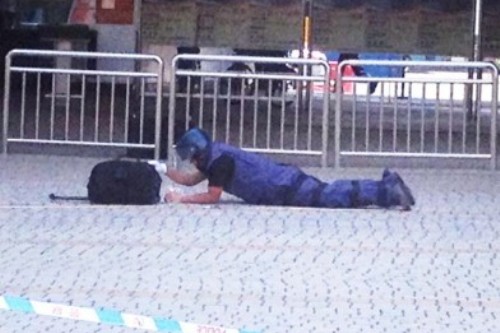 An explosion occurred this afternoon around noon near at a bus terminal in Guangzhou, reports People's Daily.
The explosion happened in a garbage can opposite the entrance to the Jiaokou Bus Station at Fang Village Boulevard and Xifangxing Road in Liwan District. The blast contained so much force that part of the container was destroyed.
A 50 year-old female sanitation worker injured in the blast was taken to No. 2 Zhongshan Hospital. The victim sustained injuries to her hands and was described by eyewitnesses as having a "face covered in blood".
Police cordoned off the scene when other explosive devices were suspected to still be in the vicinity. At 2:10pm, a suspicious black duffle bag was taken from the entrance of a KFC restaurant along with another bag discovered at a later time. However, both searches found nothing suspicious.
The explosion is now attributed by police to fireworks that had been improperly discarded, reports CCTV News.
Photos: People's Daily, Guangzhou Live