Bare Footed Workers Caught Stomping On Noodles Destined For The Dinner Table
Posted: 06/10/2014 6:16 pm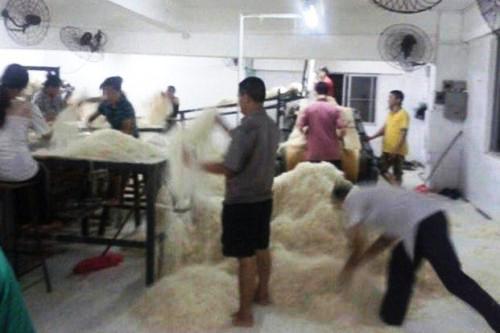 I'm no foodie, but I'm told texture is an important part to the experience of enjoying food. The way food feels in your mouth as you whimsically savor each bite that yields a tantalizing morsel.
But how food gets that certain je ne sais quoi might not be as tantalizing as the taste.
READ: 1/3 of Shenzhen Markets Selling Contaminated Noodles
A netizen called "Incapable of Seeing Straight" has posted pictures online of a Dongguan workshop during the process of making rice vermicelli noodles. The pictures depict many workers surrounded by a lot of vermicelli—so much vermicelli, in fact, that there is no room to put it. Except on the floor. Where the workers are standing. With their bare feet.
And we know that these workers are working hard because we see one of them. Sleeping. On the raw rice noodles/bed of springy noodles.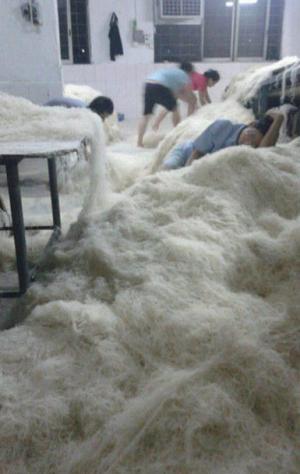 On the afternoon of June 9, the Dongguan Office of Food Inspection investigated the case and identified the Daojiao Tongcheng Rice Product Factory of Daojiao County as being the place where the photos were taken. The pictures were determined to have been taken before Spring Festival 2014. The factory says all the workers in the photos are now gone.
RELATED: 40 Jailed in 3 Years For Food Safety Violations in Dongguan
As a result of the investigation, the Daojiao Tongcheng Rice Product Factory has been ordered to close down and to reassess its food production procedures, reports Yangcheng Evening Report.
And if you're wondering if you may have eaten some of these so-called "stinky feet vermicelli noodles", well, you may have. There are 15 Daojiao vermicelli factories in Guangdong Province that have a total daily production of 800-1,200 tons of vermicelli noodles.
Daojiao rice noodles make up 80% of all vermicelli sales in the Pearl River Delta.
We should add that barefoot workers are probably a step up from workers wearing shoes into the workroom, but just barely.