Jiangmen man held hostage after online hookup
Posted: 01/31/2012 1:05 pm
25-year-old Dongguan resident "Xiao Ming," (alias) writes Yangcheng Evening News, has been drifting around the country working different jobs since he finished junior high school.
This year, his 70-something parents the Jiangs were able to convince their son to come home to Jiangmen for the holiday as soon as he got paid. On January 16 came the first call: Xiaoming was in Guangzhou to meet a woman who, up until that point, he'd only ever chatted with online.
Then on the 18th, a text from Xiao Ming's number to his parents: your son is doing my brother's little sister, his hand has been chopped off, we want 12,000 RMB.
Calls to Xiao Ming's phone went unanswered. Could he be in on this, trying to wrangle some cash out of his poor folks? On the 19th, voice contact is made—several loud crashes, the sound of a woman crying, then nothing.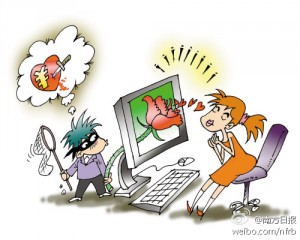 Another call from Xiao Ming's number comes the following day, this time with the supposed kidnapper repeating the demand for money and threatening to cut off another of Xiao Ming's hands. Apologies from Xiao Ming's father and begging for his son's release end when the kidnapper hangs up. Jiang then calls back, offering 10,000 RMB. The kidnapper refuses to go below 12,000.
Two days later, January 21. Jiang deposits 2,000 RMB in the specified account. When told by his son's kidnapper that the money will be collected as soon as possible, Jiang begins to suspect that he's being played and, at the advice of a friend, turns to the police.
However, with banks closed beginning January 22, Jiang starts receiving threats against Xiao Ming's life. Later, the kidnapper tells Jiang things like that he might sell his son's kidneys or get him hooked on drugs, and then follows those up over the coming days with a series of increasingly frightening SMS threats. Xiao Ming's mother faints several times and is taken to the hospital.
On January 27, Jiang makes another deposit of 8,000 RMB. The kidnapper responds by text, hinting that his son's release might come soon: "I'm out at the moment but will go back tomorrow to set your son free. Don't worry."
By the time Yangcheng Evening News filed its story this past Saturday afternoon, Jiang had yet to hear any further word about his son, whose cellphone was being kept turned off. The last time the reporter spoke with Jiang, he said there was still no news about his son, but that police in Dongguan are investigating the case and he hopes to see more media coverage.