Nanfang Transport: A review of the new high-speed rail between Shenzhen and Guangzhou
Posted: 01/30/2012 12:28 pm
Welcome to the first installment of a new series on The Nanfang focused on travel in the Pearl River Delta. From time to time, our staff will be taking the various ferries, buses and trains connecting the cities in the PRD and writing full reviews with detailed information, so you know what to expect. Today is our first edition, focusing on the new high-speed rail link connecting Shenzhen and Guangzhou.
The new high-speed railway connecting Guangzhou and Shenzhen opened with a lot of fanfare on December 28, 2011. It was the lastest link in the national high-speed rail network, which will eventually connect the major cities in China from north to south and east to west.
Train service between Shenzhen and Guangzhou has evolved almost as quickly as the new high-speed trains. It was only a few short years ago when a train journey between the two cities was well over 90 minutes, sometimes stretching to two hours when one includes intermediate stops. The first generation HSR trains were introduced between Shenzhen and Guangzhou in 2007, cutting the travel time to within one hour. Now, even that seems sluggish.
Along with the opening of the new line came the launch of Shenzhen's newest train station, Shenzhen North Station (Shenzhen Bei Zhan, 深圳北站). The Nanfang recently visited the new station for our inaugural ride on the new high-speed railway to Guangzhou.
SHENZHEN NORTH STATION
Shenzhen North Station is a spectacular facility located in Longhua District, east of Luohu. In a taxi, it takes about 20 minutes to reach the station from Luohu District, depending on traffic. It is also accessible by Shenzhen Metro's Longhua Line and Huanzhong Line.
It was our first visit to the station, and we were blown away by the scale of the facility.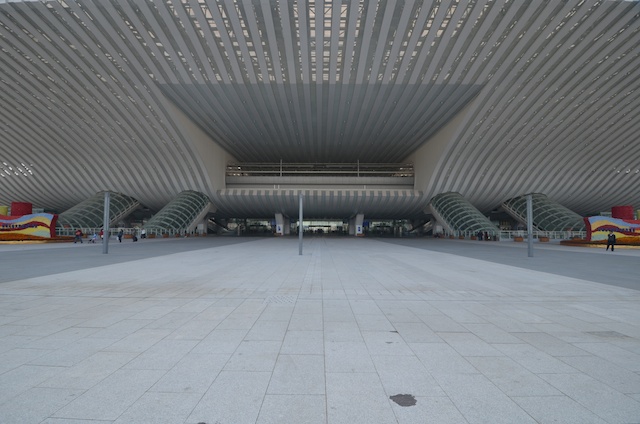 As you can see, it wasn't nearly as populated as we've come to expect from railway stations in China, which could be because the facility is so incredibly new and Longhua District is a bit of a hike from downtown. While the high-speed rail service is now operating, the conventional railway (previous generation high-speed railway) remains in service between Luohu and Guangzhou East Station; that journey is only about 35 minutes longer than on the new line, so many may not see the benefit of shaving a few minutes off a train journey by spending more time driving out of town.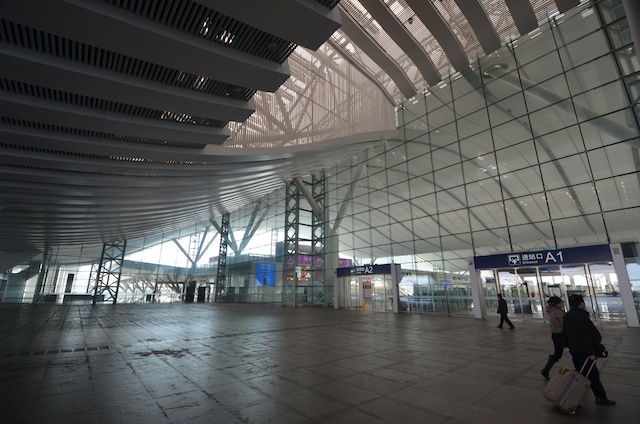 The facility itself is absolutely stunning. It has a 'wavy' ceiling and it's easy to find one's way around (which is *not* the case in Guangzhou, which we'll explain later). The ticket booths are located just inside the front doors on either side of the building.
Keep in mind that it is now policy in China for passengers to show either a Chinese ID card or a passport when purchasing tickets. As such, we were unable to use the automatic ticket issuing machines, as they couldn't read foreign passports. If you're on a passport, you'll have to line-up at a few of the ticketing windows instead.
As is the case in nearly all railway stations in China, the ticketing agents don't speak much English, if any at all. So either know where you want to go and how to say it, or bring along a Chinese companion who can translate.
We asked for a train timetable, but they said there wasn't one. It's just as well, as trains leave constantly from here to Guangzhou South Station. In peak periods, trains can leave as little as 20 minutes apart. In slower periods, it may lengthen to 40 minutes apart. When we were there, most trains were leaving every half hour, so it was no problem securing a ticket, passing through security and heading to the waiting area.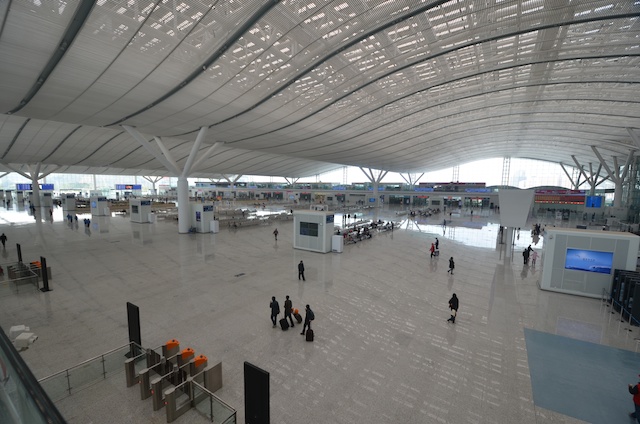 Because trains leave so frequently, it would be unusual to have to wait too long at Shenzhen North Station to board. Nonetheless, the sheer size of the traveling population in China means one should always leave extra time regardless. Fortunately the station has a decent variety of food and beverage options, ranging from the traditional western fast food (KFC, McDonald's) to Chinese options like Kung Fu, Yoshinoya, and a couple of other ramen restaurants. There is even the venerable SPR Coffee if you're looking to perk up.
THE HIGH-SPEED TRAINS BETWEEN GUANGZHOU AND SHENZHEN
We boarded the 3pm departure to Guangzhou, and the train left at 3pm sharp. Say what you will about China's efficiency, but they have the trains figured out.
We sprung for first class tickets (hey, the company was paying!) which went for RMB100. You don't get much extra in first class, other than marginally larger seats.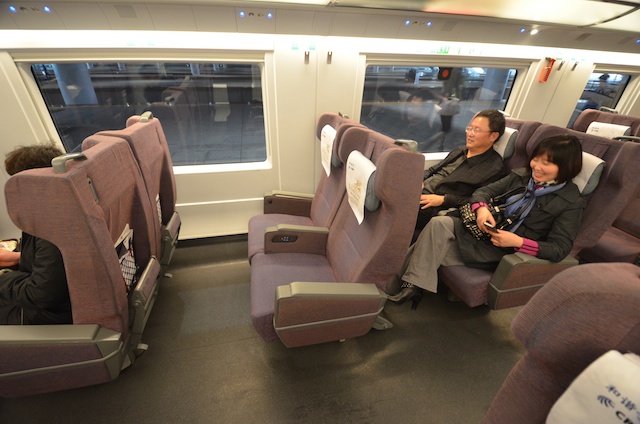 The train journey was what you would expect: absolutely smooth, and very fast. At 3:13pm the train began slowing down, as it was arriving in Humen (part of Dongguan). It opened the doors at 3:15 and departed a couple of minutes later.
Aside from passenger compartments, the train does offer a modest dining car. We began snapping photos but were politely told that no photos were allowed. This is one of the few we took that was good enough to share:
We had nothing more than a milk tea. But it's good to know that, if you just can't wait the whole 35 minutes to reach your destination, you do have food options on board. There are typical Chinese options (Shredded pork in garlic sauce for RMB15, curry chicken for RMB15, or shrimp wonton soup for RMB20) as well as western snack food like popcorn and hot dogs (RMB15).  There's also a breakfast section offering up congee, chow mein and baozi.
There was really no need to chow down on board because the journey is so short. The train pulled into Guangzhou South Station at 3:34pm, one minute ahead of schedule.
GUANGZHOU SOUTH STATION
Let's just say we have mixed feelings about Guangzhou South. Like Shenzhen North Station, Guangzhou South lies on the outskirts of town in Panyu District. From Tianhe, it can take anywhere from 20 minutes to an hour to reach the station, depending on traffic. It is also accessible by Guangzhou Metro Line 2.
Guangzhou South is billed as the largest railway station in Asia, and it definitely feels that way inside. This building is absolutely huge, and the design gives it a cave-like ambience.
The station serves as a hub in South China for the national high-speed railway network. At present, high-speed trains operate between Guangzhou and Shenzhen and Guangzhou and Wuhan. There are also trains from Guangzhou South down to Zhuhai, with stops at several intermediary towns on the way down. Eventually, when the Wuhan-Beijing section is complete, it will be possible to go from Guangzhou to Beijing by rail in less than 9 hours.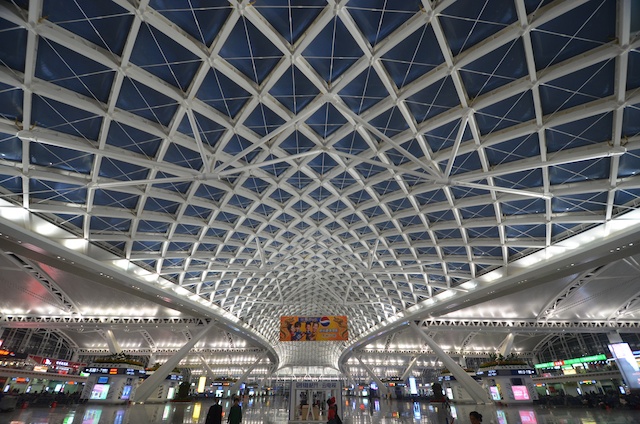 What we didn't like about Guangzhou South is the layout. It doesn't seem very functional, there are few areas to buy tickets (which have moved around each time we've visited), and the signage is poor. Some signs are covered with tarps and some are not, leading us to wonder which signs were correct.
The ticket purchasing area is actually outside of the main terminal on either side. As usual, travelers on foreign passports will need to forego the automatic ticketing machines and line-up to purchase from a clerk behind a window.
There is also a big bus loop at the front of the terminal with buses connecting to cities across the PRD. It's incredibly convenient for reaching some of the smaller towns in between some of the major train stations and prices are cheap (usually much less than 100 yuan).
Guangzhou South also has a number of food and beverage options, including McDonald's and KFC, a couple of stores aptly named "The Convenience Store" and a few noodle shops. If you're hungry, you shouldn't have much trouble finding a spot to chow down while you wait for your train.
CONCLUSION
Overall we found the train service to be very convenient and incredibly fast. However, if you have business in Tianhe in Guangzhou or Luohu/Futian in Shenzhen, taking the conventional railway still might save you some time. Shenzhen North and Guangzhou South are a ways out of town, so that needs to be factored in to any decision to ride the new high-speed rail.
That being said, Shenzhen North Station and Guangzhou South are both stunning facilities with plenty of amenities for the weary traveler. Make no mistake though, in terms of functionality, Shenzhen North wins hands down. It's better organized and seems much more logical to navigate.
Overall, this is a spectacular addition to many options for traveling within the PRD. The train network will become even more useful when one can go from Shenzhen to Wuhan, and on to Beijing, without changing trains in Guangzhou. It's nice to know that as speedy and convenient as this service is, it is only set to get better.