Posted: 07/31/2012 12:00 pm
I remember Guangzhou East Station before it even had a Starbucks.  Back then, while waiting for your ride to Hong Kong or Shenzhen, you had to make do with the little snack shop selling all kinds of stale and otherwise inedible cracker-like things.
How times have changed.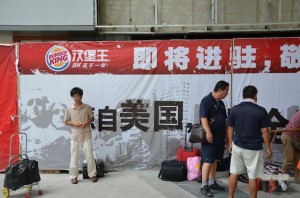 Guangzhou East now has a Starbucks, McDonald's, and the venerable Yonghe Dawang (Yonghe King) for hungry people who need to kill time before their train departs.  But there's an even bigger name moving in: Burger King.
The Nanfang passed through Guangzhou East a few days ago and saw the hoarding up as the staff prepare to open Burger King at the location.  The popular flame-broiled American hamburger chain is expanding faster and faster in the PRD, with several locations now in Shenzhen plus those in Hong Kong.  There are at least two other Burger Kings in Guangzhou as well at Grandview Mall and Tai Koo Hui.
You'll likely be seeing many more Burger Kings sprout up in the next few years, which will eventually water-down the novelty factor.  The company says it plans to open 1,000 restaurants in China in the next five to seven years.
No word on when the Burger King at Guangzhou East will open, but we expect within the next few weeks.