Posted: 05/4/2014 10:33 am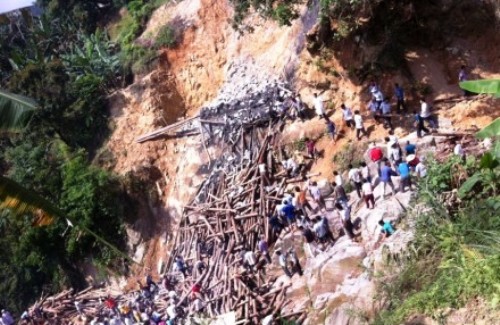 UPDATE 1: Reports are coming in that revise the death toll from this incident to seven.
UPDATE 2: A total of six victims transported to hospital have succumbed to their injuries, raising the death toll to 11. Named to that list includes the foreman of the construction site reportedly responsible for the building of the bridge without government approval.
A 20-meter long bridge under construction near Maoming, Guangdong Province was the scene of a deadly incident yesterday when it suddenly collapsed and killed five workers, reported Guangdong Daily.
The collapse occurred yesterday afternoon at 1pm in the village of Liangping, Gaozhou City just as the annual Labor Day long weekend was concluding.
300 rescue personnel descended upon the scene, and by 7:30pm that evening, 26 people had been rescued, all workers of the bridge, of which eight were seriously injured.
The bridge under construction was to be a stone arch bridge, and whose construction is reported to have not taken the proper building procedures despite being authorized by the village itself.
In related news about collapsing structures, two people are dead and three injured when a three-story brick building collapsed early today in the Hongkou District of Shanghai.
Labor Day is the Chinese holiday in which the diligence and hard efforts made by manual labor are celebrated through giving workers time off from work.
Photos: Weibo (Guangzhou Daily, Caijing)