Posted: 03/31/2014 10:05 am
Updated at 2:19 pm
Four teenagers, two males and two females, were allegedly killed during clashes between protesters and police on Sunday as hundreds of residents in Maoming, Guangdong rallied to protest a PX (paraxylene) project, according to a post uploaded by a Sina Weibo user based in Maoming.
During the night, the protest seemed to have escalated into clashes between protesters and the local police force. Several residents were hurt and the police and paramilitary forces seem to have sealed the city, according to one Weibo user who is on the scene.
Photos uploaded to Weibo by several netizens show several cars overturned and set on fire. Protesters say the PX project site should be moved out of the city's downtown core and located beyond the city center's 100 kilometre radius.
Here are some images: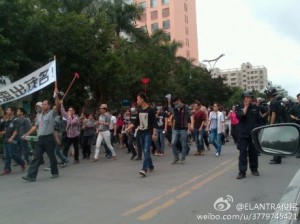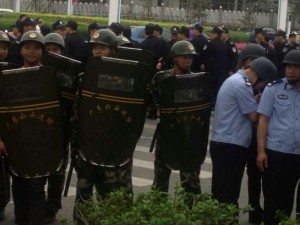 Here is the weibo post from 强拆 on 01:40 am March 31:
The latest update from Maoming protest: the paramilitary police have sealed highways. All the media vans were blocked from entering the city. The city is tightly sealed. We Maoming people now have no one to reply upon but ourselves. All thats left now is a road to death. For our offspring, it is all worth it. The people of Maoming will outnumber the police. We have to save ourselves and kick the PX project out of Maoming.
The government has issued a statement and declared the protest to be illegal. Here is a partial translation of the statement (the full statement can be read here):
….the protest did not file any permission from relevant departments. The protest against the PX project is a serious violation against the law and have severally impacted social orders. The municipal government strongly opposes such illegal act…