26 tons of inedible "fake" salt seized in Guangzhou
Posted: 03/18/2014 9:27 am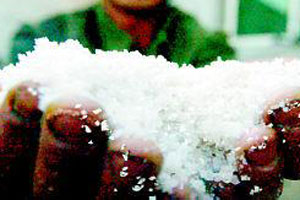 Easy on the salt, not just for the sake of your blood pressure! These days in Guangzhou who knows what "salt" you are sprinkling on your food.
Nanfang Metropolis Daily reported that about 26 tons of fake salt, mainly industrial salt, was uncovered in Guangzhou in the first half of the month, according to figures released by the provincial salt industry group on March 15, China's consumer day.
Industrial salt, which contains excessive levels of metals, are not safe for human consumption. Some industrial salt that contains sodium nitrite can sometimes result in deaths. The confiscated salt has been circulated in Baiyun, Huadu, Zengcheng and other overlaying regions between city and countryside, the report said. The salt was smuggled from central Jiangxi Province, and stocked in several warehouses in places such as Baiyun before being distributed in Guangzhou.
An executive from the provincial salt group said 96% of the 650,000 tons of salt consumed annually in the city was safe. But still, you don't want to be the one buying the remaining 4%, if the numbers are reliable.
Here is a trick identified by the newspaper to tell if the Yuepai salt (粤牌盐) is table salt or not: fake salt often has folds around the edges, while real salt doesn't. Here is a comparison of edible Yuepai salt and the bogus one (top). Courtesy of Orange Net:
Home page and content photo credit: Nanfang Metropolis Daily